Pissaladière Recipe
Pissaladière is an onion and anchovy pizza that originated around the city of Nice in the south of France. You might think that its name is a funny way of saying pizza (maybe with a side of salad), but it actually derives from the Provencal word for a fish paste: pissala. If you like onions and anchovies on your pizza, than this is the recipe for you.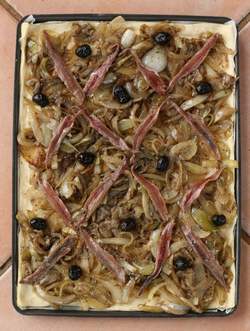 Ready for the Oven
Serving Suggestions
Pissaladière can be served either warm from the oven or cooled to room temperature. Either way it is good.
Appetizer - Slice the pizza in small portions and serve as finger food. Serve with a dry rosé wine.
Entrée - Remember this is the first course here in France. Arrange a larger slice of pissaladière on a plate along with a small serving of green salad dressed in lemon vinaigrette.
Main Course - Serve it as a warm weather main course along with a generous green salad and some fresh goat cheese.
Nicoise Olives
Because this recipe originates in Nice, it naturally calls for Niçoise olives. These are small, black olives with lots of flavor. Do not worry if you do not have any, just use any sort of flavorful black olive such as a Kalamata.
Pissaladière
Preparation Time: 30 minutes
Baking time: 15 - 20 minutes
Makes 12 modest servings.
Ingredients
16 ounces ready made pizza dough
2 pounds onions
5 tablespoons olive oil
1 tablespoon dried

herbes de Provence

2 teaspoon granulated sugar
freshly ground pepper
2 1/2 ounces oil packed anchovies (about 21 total)
2 cloves garlic, peeled and crushed
12 Nicoise olives (or equivalent)
Directions
Oven. Preheat the oven to 200°C (400°F).
Prepare onions. Cut the onions in half and peel them. Slice the halves thinly.
Cook onions. Heat 1/4 cup olive oil on medium heat in a large skillet. Add the onions and sprinkle with the herbs, sugar, and freshly ground pepper. Cook on medium heat, stirring frequently, until the onions are limp and begin to color (about 10 minutes).
Add anchovies and garlic. Add 5 anchovies and the crushed garlic. Cook stirring continually until the anchovies "melt" and blend with the onion mixture (about 2 minutes). Remove from heat.
Fit dough to pan. Roll out the pizza dough to fit a 9 X 13 inch baking tray or equivalent (you can make a round pissaladière if you prefer).
Top with ingredients. Use a pastry brush to lightly oil the top of the dough with 1 tablespoon olive oil. Top with the onion mixture. Arrange the remaining anchovies in a crisscross pattern on top of the onions and decorate with the olives.
Bake. Bake pizza for 15 to 20 minutes or until the crust is golden brown. Serve either warm or cold.
Slicing Onions
The hardest thing about making this onion pizza is slicing the onions. If you are orderly in how you slice onions, it will be less of a bother. Keep your cutting board clear of onion peel and prep the onions so you can slice quickly and avoid eye irritation.
Cut off the root and top ends of all your onions and dispose of them.
Slice all of the onions in half.
Peel each half depositing the peel into your waste disposal.
Now you are ready for some fast slicing: place each half flat on the cutting board and quickly slice.
Even if you work quickly you are bound to get a little teary with the amount of onions needed here. Try a ski mask or a special onion mask - they really do work - and your family will get a laugh.
New!

Comments

Have your say about what you just read! Leave me a comment in the box below.