Fried Eggplant Recipe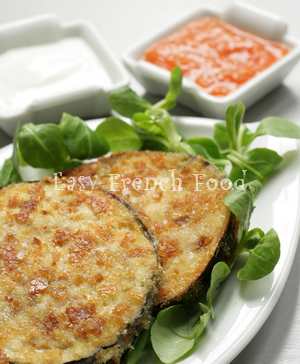 This fried eggplant recipe is the perfect easy appetizer to make when eggplants are at their peak in the late summertime. You can also serve them topped with a luscious, light tomato coulis and make a meal on them.
Fried Eggplant Recipe Notes
Although I'm not amongst them, some people find that eggplant has an objectionable, bitter taste. To help with this, use small, young eggplant with firm flesh which are said to be less bitter then their older counterparts.
You can also try using salt to leech out some of the juices. To do this, slice the eggplant and place them in a colander. Toss them with a couple of tablespoons of salt until they are all coated. Allow the eggplant to sit for 30 minutes in the sink or over a plate, then rinse very thoroughly with water and pat dry with paper towel.
Eggplant is a sponge for oil, but you can make this fried eggplant recipe a little lighter by making sure you've properly prepared the slices before frying them. Be sure each slice is well covered with breadcrumbs, and allow them to sit for a while in the refrigerator. This gives the coating time to "set" and it will then form a more effective barrier against the oil.
For me, the biggest challenge with this fried eggplant recipe is deciding what to serve with it. Although the French will eat them with fish or meat, I just feel like that is too much. I found the perfect solution in serving them on a bed of lamb's lettuce with an accompaniment of brown rice. Top this with this homemade tomato sauce recipe and plain yogurt and you'll have a delicious and satisfying vegetarian meal.