Salmon Rillettes Recipe
This salmon rillettes recipe is very easy and quick to prepare and is a good chance to get a taste of what is a very popular food in France.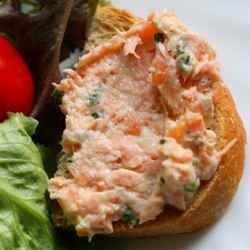 Traditionally rillettes are made with pork, which is chopped, and cooked for a long time in its own fat. This produces a very rich and flavorful mixture that is typically enjoyed spread on toasted bread.
Salmon rillettes are a good option for the less ambitious home cook, as this preparation does not involve hoisting large pieces of pig about the kitchen. Serve this as an appetizer, or along with a small green salad as a starter course. It can even be used as a sandwich spread.