Easy Ratatouille Recipe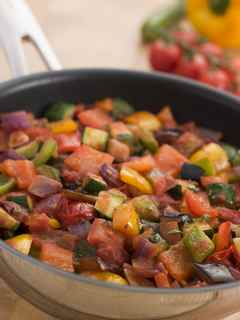 I was cooking this easy ratatouille recipe long before I moved to France and realized it had an official name - I called it vegetarian spaghetti sauce. I would put a large skillet on the burner, pour in olive oil, and start chopping whatever vegetables I had found at their peak in the grocery store. I would add each vegetable as I finished cutting it up and I soon learned the best order to do my chopping in.
This is actually how I think most home cooks in France make this popular vegetable dish. Another method for making ratatouille is to cook each vegetable separately and then add them together. The advantage of this method is that the individual flavors of the vegetables are retained, resulting in a more complex and refined tasting dish.
Easy Ratatouille Recipe
Preparation Time: 25 minutes
Cooking time: 40 minutes
Makes 4 to 6 servings
Ingredients
1/4 cup olive oil
2 onions, slivered
3 bell peppers, cut into one inch squares(try different colors)
2 eggplants, cut into 1/2 inch cubes
2 zucchini, cut into 1/2 inch cubes
4 cloves garlic, minced or crushed
2 pounds tomatoes, chopped
1 tablespoon minced fresh thyme
salt and pepper
1/4 cup chopped fresh basil
Directions
Heat olive oil in a heavy soup pot on medium heat. Sliver onions and add to oil.
While the onions cook, chop the bell peppers and add them to the pot, stirring well.
Chop the eggplants and add to the pot, stirring well to coat the eggplant with oil. At this point all the olive oil will have soaked into the eggplant, so you need to stir often to keep things from burning until they soften some.
Chop the zucchini and stir it in once the eggplant has softened a bit.
Chop the garlic and add to the vegetables, stirring well.
Chop the tomatoes and add them.
Mince the thyme and add it along with salt and pepper to taste. Stir well and cook two minutes.
Turn down heat and cover the pot. Simmer until everything is soft and well blended - about 40 minutes.
Stir in basil and remove from heat.
If you don't have any fresh herbs for your dish, you can substitute a tablespoon or so of herbes de Provence.
Life in France
If you are enjoying a bountiful summer harvest, you might also like to try some of these other vegetable recipes:

Did you know that although they do take time to enjoy their meals, most French people prepare their food with great simplicity?