Baked Eggplant Recipe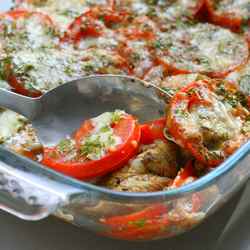 This easy baked eggplant recipe goes together very quickly. It calls for layering sliced eggplant with tomatoes and topping with some tasty cheese.
It makes the perfect vegetable side dish to have with sausage or grilled chicken. It could also serve as a satisfying vegetarian main dish when served with rice.
Unlike ever-so-popular eggplant parmigiana, this baked eggplant recipe calls for no breading or frying, so it is much quicker to put together and probably healthier. The eggplant is pre-baked with just a little olive oil, so this dish is actually fairly low fat.
Oh yeah . . . if you don't count the cheese!
Preparing Eggplant
This baked eggplant recipe calls for salting the sliced eggplant before baking. This draws some of the water out of the eggplant and results in a casserole with a firmer texture.
Some people find that eggplant has a bitter flavor and salting helps to draw the bitterness out. Personally, I have no problem with bitterness and you might want to skip the salting step if you are in a hurry and are not too concerned with the final texture. The dish will still taste fine, as long as you are not one of those people that tastes bitterness in eggplant.
When selecting eggplants, it can be helpful to look for smaller vegetables. They tend to have less seeds and give a better tasting final result when cooked.
Find more Easy Eggplant Recipes.
Les Gratins
You will find no end of recipes in France that call for finishing with a bit of cheese and baking in the oven for a few minutes. Cheese topped vegetables are usually winners with most of the family, so you might want to try one of these other au gratin dishes:
If you buy a pretty dish for your baked vegetable recipes, you can bring it to the table with pleasure. For some ideas, have a look at these pretty au gratin dishes.