Vegetarian Terrine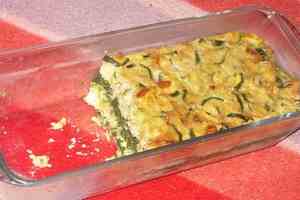 This vegetarian terrine was the first terrine I tried on my family. My husband was urging the kids to get to the table quickly as dinner was getting cold. He didn't realize that his first course was cold already. Everyone loved it and it was just as good for lunch the next day. This would be perfect for a main course on a hot summer night or as a starter to a fancier meal.
Terrine Aux Courgettes
Serves 6
Ingredients
2 pounds of zucchini (make them young ones with thin skin)
1 large onion
2 tablespoons olive oil
4 ounces soft white bread
1/2 cup milk
three eggs, beaten
8 ounces chopped frozen spinach, defrosted
1/4 teaspoon nutmeg
salt and pepper to taste
tarragon
Directions
Chop the zucchini and onions finely and cook them on medium heat until very soft, about 15 minutes. Remove from the stove and smash them with a fork.
Soak the bread in the milk and smash it to a fairly smooth consistency. Add the zucchini to this along with the eggs, nutmeg, salt, and pepper. Mix well.
Butter a 2 quart glass loaf pan and add half of the mixture, pressing it firmly to the bottom in one even layer. Add the spinach all in one neat layer and sprinkle with a little salt and tarragon if you wish. Finish with the other half of the egg mixture.
Bake at 325° F in a larger dish filled with water (called a bain-marie in French) for 1 hour and 15 minutes. Turn off the heat and leave the terrine in the oven for another 15 minutes. Remove from the oven, allow to cool, and refrigerate for several hours or overnight before serving.
New!

Comments

Have your say about what you just read! Leave me a comment in the box below.