Glazed Carrots Recipe
Called carottes Vichy in France, this very simple glazed carrots recipe can be served as an accompaniment to your main course, perhaps a simply prepared pork roast with a few roasted potatoes.
Why Vichy?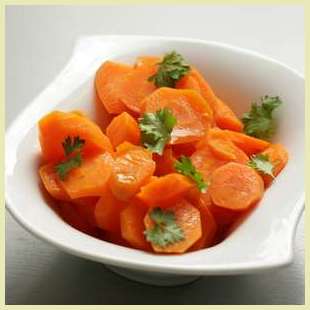 This recipe is traditionally made with Vichy water, a naturally carbonated mineral water collected in the town of Vichy in the middle of France. The therapeutic qualities of this water have been hailed since the time of the Roman occupation of France. Drinking as well as bathing in the water is said to cure all sorts of ailments, and the popularity of the spas at Vichy has waxed and waned through the centuries.
As well as being bottled and sold in France, the water is used to make les pastilles de Vichy, a French candy. The famous potato leek soup, Vichyssoise, also gets its name from the town of Vichy, but not because it is a speciality of the region. Rather the fellow who is credited with inventing this cold soup was originally from Vichy and decided to commemorate his birthplace in the naming of his recipe.
Of course, you needn't use Vichy water to make these carrots. Indeed tap water will do just fine, but you might like to use a carbonated water just for fun and for a slightly different effect.
Carottes Vichy
Preparation time:
20 minutes
Makes 4 to 6 servings
Ingredients
1 1/2 pounds fresh, young, tender, sweet carrots
Vichy water or other plain carbonated water (or just use tap water)
2 tablespoons sugar
1 teaspoon salt
2 tablespoons butter, plus more to season
2 tablespoons chopped fresh parsley
Directions
Peel the carrots and slice in thin (about 1/8 inch) rounds. Place the sliced carrots in a skillet and just barely cover with water. Sprinkle on the sugar, salt and dot with butter. Give everything a quick stir.
Bring the carrots to a boil over medium heat and then turn heat to low. Cover the skillet and cook the carrots between 5 and 10 minutes, or longer if you like overcooked vegetables.
Remove the cover and drain off all but a couple of tablespoons of water. Cook a little longer to evaporate the water, stirring to glaze the carrots without burning. Stir in butter to taste and the chopped parsley. Serve immediately.
Variations on Glazed Carrots Recipe
Add a couple of cloves to the cooking water.
Add a chopped onion and cook along with the carrots.
Substitute chopped chives or chervil for the parsley.
Add a little minced garlic at the end.
Related Recipes


Carrot Salad Recipe


Carrot Soup Recipe
New!

Comments

Have your say about what you just read! Leave me a comment in the box below.