Pear Tart Recipe
Easy French Fruit Dessert
This easy pear tart recipe features a filling of ground almonds, butter, eggs and sugar called frangipane. It is the basis for other French fruit desserts as well. This style of tart is known as a tarte amandine and includes other French recipes showcasing all sorts of yummy fruits with an almond paste background. You might like to try this recipe with apricots, berries, apples, or even figs.
Recipe Notes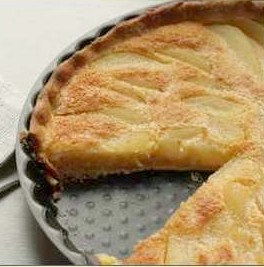 The almond paste in this recipe is called

frangipane

and it is a popular ingredient in many French desserts, including this

King Cake recipe

(

la galette des rois

). Frangiapne is made by mixing

almond flour

with butter, eggs and sugar.
This recipe calls for canned pears and a pre-made pastry shell. You could of course substitute fresh pears and make your own pie crust, but there is no need.
If you choose you can arrange you pears in a layered, spiraling pattern. This is called a

rosace

in French and definitely adds an elegant, if unnecessary, touch.
For a knock out dessert, serve this pear tart recipe with chocolate sauce.
Tarte amandine aux poires
Prep time: 20 min
Bake time: 30 min
1 shortbread type pie shell
1 large can of pear halves in light syrup, sliced in 1/8 inch slices
6 tablespoons butter softened
1/2 cup sugar
2 eggs
2/3 cup almond meal
2 tablespoons flour
2 tablespoons pear brandy (optional)
2 tablespoons sugar (cassonade if possible)
Fit the pie shell to a 10 inch or so fluted tart pan. Prick the bottom a dozen times with a fork and place in freezer for at least 20 minutes (this helps the crust to retain its shape when baking).
Beat the butter and sugar together until light and creamy. Beat in the eggs one at a time and then the almond meal and flour. Finally mix in the brandy.
Remove the tart shell from the freezer and spread the batter evenly on it. Arrange the pear slices on top of this pushing them lightly into the batter. You can get as creative as you wish with the arrangement. Sprinkle with 2 tablespoons of sugar.
Bake at 350° F for 30 minutes.
Allow to cool to serve.
New!

Comments

Have your say about what you just read! Leave me a comment in the box below.