Peach Melba Recipe
Although this Peach Melba recipe is very easy to put together, it is such an impressive combination of flavors and colors that it would make an elegant enough French dessert to offer dinner guests. Of course, nothing is to stop you from enjoying this ice cream sundae in the middle of the afternoon with the kids either.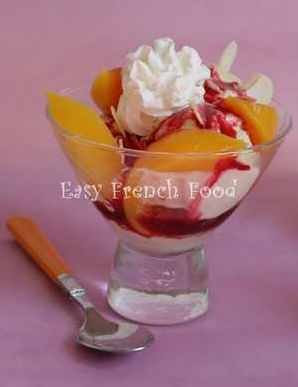 Peach Melba Recipe Notes
This is the sort of recipe you can make harder or easier, depending on how much time you have.
You can poach fresh peaches yourself or use canned.
You can make the ice cream yourself or use store bought (buy the best you can afford).
Do try to make the whipped cream yourself - it's so much better and only takes a few minutes.
As for the sauce, I hope you will try this raspberry sauce recipe. It is truly luscious and very easy to put together, especially if you use frozen raspberries.
Pêches Melba
Preparation Time: 10 minutes
Makes 4 sundaes
Ingredients
1/4 cup sliced almonds
1 15 ounce can peach halves in light syrup, drained
1 pint vanilla ice cream, slightly defrosted
whipped cream
1/2 cup raspberry sauce
Directions
Lightly toast the sliced almonds by placing them on a baking sheet in a hot (400°F) oven for 2 minutes.
You can either slice the peach halves into smaller pieces, or leave them entire.
Place several scoops of ice cream in each of four dishes. Top with the peaches and then drizzle on the raspberry sauce.
Finish by topping with whipped cream and toasted almonds. Serve immediately.
Peach Melba History
Peach Melba was first prepared by the French culinary great, Auguste Escoffier (1846 - 1935). He named the dish after Nellie Melba, a very successful Australian opera singer of the 19th and early 20th century. Escoffier was not only an inventive chef, he was also quite creative in naming his dishes. Here is just a small sampling of some of the peach desserts that are named and described in his masterpiece on French cuisine, Le Guide Culinaire.
Pêches Dame-Blanche - Poached peaches, vanilla ice cream, thinly sliced pineapple, kirsch, maraschino liqueur, and whipped cream.
Pêches Eugénie - Fresh peaches, strawberries, kirsch, maraschino liqueur, and Champagne sabayon.
Pêches Sultane - Poached peaches, pistachio ice cream, rose syrup, topped with spun sugar.
Pêches Trianon - Peeled and sugared peaches, vanilla mousse, macaroon pieces imbibed in liqueur, strawberry puree.
New!

Comments

Have your say about what you just read! Leave me a comment in the box below.