French Apple Tart
Tarte Tatin Dessert
This French apple tart recipe is a little different from some you may have tried. Here the tart is made upside-down and then turned over to serve. It is called Tarte Tatin.
You will find tarte tatins made with other fillings including some delicious savory tarts. The classic Tarte Tatin, however, is made with caramelized apples and there is a story that goes with it.
The Tatin Sisters
The legendary Tatin sisters, Caroline and Stephanie, were the owners of a restaurant in Sologne in the Centre region of France at the turn of the 20th century. Their cooking was highly regarded, in particular, it is noted, by the local hunters.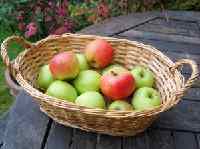 One day one of the sisters, in a hurry to prepare dessert (supposedly she had tarried too long in talking with one of her customers), forgot to line the tart pan with pastry dough before filling it with apples. Realizing her error after the fact, she hastily covered the apples with the dough and baked it just like that. To serve her creation, she simply flipped her tart, and voilà Tarte Tatin was born.
Another version of the story has Mademoiselle Tatin burning the bottom of her tart, emptying the filling into another pan and covering it with more pie dough before baking some more.
Easy Method for Good Results
Whatever its origin, this French apple tart is a very tasty and fun French dessert. You will get good results by making the caramel separately on the stove top, than pre-baking the apples in this without their pastry lid, before finishing off the baking with the pastry added. This will give you a deliciously rich caramelized apple filling.
You will need a sturdy baking dish to correctly make a tatin. You can even find special baking dishes made just for creating these special tarts.
Serving Suggestions
Although purists claim that it is no longer Tarte Tatin if you add anything else to it, you might like to serve your French apple tart with a small pitcher of cream for pouring on top or a scoop of vanilla ice cream.
Tarte Tatin
Preparation Time: 45 minutes
Baking time: 1 hour and 45 minutes
This French apple tart recipe calls for baking the tart twice, once without the crust, and than again after you've added the pastry top.
Makes about 8 servings
Ingredients
For the pastry crust (or you can use a good quality store bought pie crust):
1 1/3 cup all-purpose flour
1/2 teaspoon salt
8 tablespoons cold, unsalted butter
1/4 cup cold water
For the caramel:
3 tablespoons water
2/3 cup sugar
4 tablespoons butter
For the filling
8 baking apples (I use Pink Lady and the results are divine)
1 tablespoon sugar
Directions
Prepare the pastry crust by mixing the flour and salt together in a bowl. Cut in the butter using a pastry blender. Stir in the cold water with a fork until dough starts to stick together. Gather into a smooth ball and flatten slightly. Cover with plastic wrap and refrigerate until needed.
Butter the bottom and sides of a sturdy 10 inch diameter baking dish.
Prepare the caramel by mixing the sugar and water in a saucepan on medium heat. It will come to a boil and all you need to do is shake the pan occasionally. Continue boiling until the mixture just begins to turn brown. This should take about 10 to 15 minutes. Remove from heat, stir in butter, and pour into baking dish. Be careful! The caramel is extraordinarily hot.
In the meantime, prepare the apples by peeling, coring and cutting them into quarters. You can cut off the ends of the quarters to make it easier to arrange them in a circular baking dish. Save the cut off tips to fill in empty spaces in the tart.
As soon as you have poured in the caramel, arrange the apple slices in concentric circles, moving from the outside of the dish towards the center. Layer as needed to use up all of the apples. Only the first layer will show, after that just try to wedge them in evenly. Sprinkle evenly with tablespoon of sugar.
Bake at 375°F for 45 minutes. Take out of the oven and allow to cool. At the same time you can take the pastry dough out of the refrigerator and allow it warm up a couple of minutes so it is easy to roll out. Roll out pastry dough into a circle that is about a 1/2 inch larger in radius than your baking dish. Once the apples have cooled somewhat, place the pastry on top and tuck edges down into dish.
Return to oven and bake for another 30 minutes. Remove from oven. Before this French apple tart cools, place a larger dish over the top and turn the tart. Serve warm.
Related Recipes . . .


Apple Clafoutis


Recipe for Baked Apples


Apple Cake Recipe
New!

Comments

Have your say about what you just read! Leave me a comment in the box below.