French Apple Tart
Tarte Tatin Dessert
This French apple tart recipe is a little different from some you may have tried. Here the tart is made upside-down and then turned over to serve. It is called Tarte Tatin.
You will find tarte tatins made with other fillings including some delicious savory tarts. The classic Tarte Tatin, however, is made with caramelized apples and there is a story that goes with it.
The Tatin Sisters
The legendary Tatin sisters, Caroline and Stephanie, were the owners of a restaurant in Sologne in the Centre region of France at the turn of the 20th century. Their cooking was highly regarded, in particular, it is noted, by the local hunters.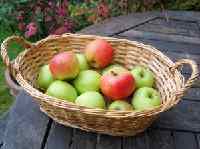 One day one of the sisters, in a hurry to prepare dessert (supposedly she had tarried too long in talking with one of her customers), forgot to line the tart pan with pastry dough before filling it with apples. Realizing her error after the fact, she hastily covered the apples with the dough and baked it just like that. To serve her creation, she simply flipped her tart, and voilà Tarte Tatin was born.
Another version of the story has Mademoiselle Tatin burning the bottom of her tart, emptying the filling into another pan and covering it with more pie dough before baking some more.
Easy Method for Good Results
Whatever its origin, this French apple tart is a very tasty and fun French dessert. You will get good results by making the caramel separately on the stove top, than pre-baking the apples in this without their pastry lid, before finishing off the baking with the pastry added. This will give you a deliciously rich caramelized apple filling.
You will need a sturdy baking dish to correctly make a tatin. You can even find special baking dishes made just for creating these special tarts.
Serving Suggestions
Although purists claim that it is no longer Tarte Tatin if you add anything else to it, you might like to serve your French apple tart with a small pitcher of cream for pouring on top or a scoop of vanilla ice cream.