Cherry Tart Recipe
Here is an easy cherry tart recipe that features a kirsch flavored custard base. It gets its French name - Tarte Montmorency - from the type of cherries that are sometimes used to make it.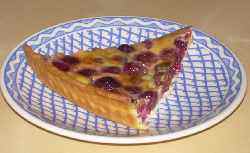 This yummy cherry tart takes a little time to prepare because you have to pit all of those cherries. Maybe you can get one of your kids to do that. Be sure you have a cherry pitter.
You can makes this cherry tart with Montmorency cherries if you can find them, but any cherry that is good for baking would work well.
Cherry Tart
Tarte Montmorency
Prep time: 20 min
Bake time: 40 min
Makes 6 servings
Ingredients
1 unbaked pie shell
2 pounds cherries, pitted
2 tablespoons butter
1/2 cup sugar
2 eggs
1/4 cup flour
1 cup milk
1 tablespoon Kirsch
Directions
Fit the pie shell to a 10 inch tart pan and prick the bottom several times with a fork.
Melt the butter in a saucepan and add the cherries. Cook for 5 - 6 minutes, shaking the pan from time to time. Add 1/4 cup of the sugar and continue cooking the sauce thickens and caramelizes slightly. Remove from heat and pass through a sieve. (You won't need the cooking juices.)
Spread the cherries on top of the tart shell.
Beat the eggs with the other 1/4 cup of sugar and the flour. Stir in the milk and the Kirsch. Pour this mixture on top of the cherries. Bake at 400° F for 40 minutes.
Allow to cool completely and serve cold.
New!

Comments

Have your say about what you just read! Leave me a comment in the box below.