Flamiche Tart
French Leek Recipe
Here's a great leek recipe called flamiche from the Picardy region of France.
Learn a technique, not just a leek recipe
If you've done your homework and know something about French sauces, you'll see that in this leek recipe you're actually making a bechamel sauce at the same time you're cooking the leeks.
I've seen recipes for flamiche asking you to make the bechamel sauce separately and then combine it with the leeks - but why bother? Unless you like those dirty pots and pans hanging out in your sink???
You might like to try varying the filling of this tart somewhat. Perhaps by adding some additional vegetable - carrots and broccoli would go well with the leeks. You can use the basic technique of making a béchamel sauce by adding flour to coat your ingredients and then milk until it is heated through and thickened, in many different recipes.
Flamiche aux Poireaux
Prep time: 30 min
Bake time: 30 min
Makes 6 servings
Ingredients
2 round, puff-pastry crusts, uncooked
3 tablespoons butter
2 pounds (or more) leeks, cleaned and cut into 1/4 inch rounds (don't use the tougher dark green part)
3 tablespoons flour
2 cups milk
1/4 cup grated gruyère or similar cheese (optional)
salt and pepper
1/8 teaspoon nutmeg
1 egg yolk
Directions
Melt the butter in a frying pan on medium heat. Add the leeks and cook until soft - about 10 minutes.

Stir in the flour until mixed completely with the leeks. Pour in the milk and cook, stirring occasionally until the mixture thickens and comes to a boil - about 5 minutes. Remove from heat and let cool about 5 minutes. Stir in nutmeg and salt and pepper to taste.

Meanwhile, line a 9 inch tart or pie pan with one of the crusts. Brush the bottom of the crust with the egg yolk mixed with a couple of teaspoons of water. Pour the cooled leek mixture into the crust and top with the second crust. Roll the edges together so that the whole tart is sealed. Make a hole in the center of the tart so that steam can escape as the tart is cooking and, if you wish, make a design on the top crust with a sharp knife.

Bake for 30 minutes at 375° F. Serve warm.
Where is Picardy?
Picardy is in the north of France. Nowadays it is an official region, but for a long time the term Picardy was loosely used. The only thing that was clear was that it was north of Paris.
Food in Picardy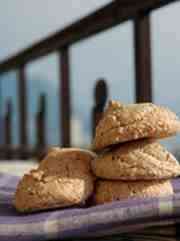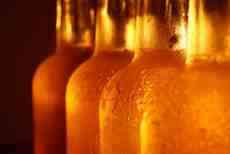 Picardy has more then just great leek recipes. Here you will find a lot of traditional cooking. These are dishes that have sometimes been made for hundreds of years. Other than this leek recipe, some of Picardy's more famous foods are:
Pâté de Canard d'Amiens

- Amiens is the largest city in Picardy. This pâté is made from duck's livers, brandy and finely diced mushrooms amongst other ingredients. It is attractively served enclosed in a thick crust.

Ficelles Picardes

- Ham, mushroom and cream filled crepes topped with cheese and baked to perfection.

Macarons d'Amiens

- Another speciality of Amiens, macarons have a long history going back many centuries. They are light, round cookies made from egg whites, almond powder, sugar and honey. You can probably find these packaged in a gourmet food shop. You might want to do like the French do sometimes and offer macarons to the host of a party you are attending.

Gateau Battu

- This is a tall, unfrosted cake made with lots of egg yolks. It too has a history of many hundreds of years and there is even a brotherhood devoted to the promotion and understanding of this Picardy speciality.
Drinks
And what do the people of Picardy like to drink with all of this good food? Wine of course (we're in France after all) but cider is a regional specialty and beer drinking is more common than in other parts of the country.
New!

Comments

Have your say about what you just read! Leave me a comment in the box below.