Champagne Vinegar

How it is Made, Purchasing, and Cooking Tips
In France, champagne vinegar is also called le vinaigre de Reims after the town in the Champagne region where it is made. It is an appropriately light tasting and beautifully colored vinegar just like the famous bubbly from which it is made. You can use it to make a champagne vinaigrette and for so much more.
If you're not planning a trip to France soon, or even if you are and don't want to go home with your suitcase overloaded with vinegar, you can order it and have it delivered by Amazon.
Note that some of these vinegars are not actually made in France. However they are made from sparkling wines and their taste should not differ too much from that which is made on French soil. Enjoy.
How Reims Vinegar is Made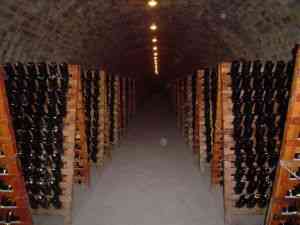 Champagne Cellar
To understand how this vinegar is made, you need to know a little about how champagne itself is made.
The grapes for champagne are of course grown in the Champagne region of France, the most northerly of the French wine producing regions. Pinot Noir, Pinot Meunier and Chardonnay grapes all enter into the mix that are used to elaborate champagne.
What makes champagne different from other wines is that it is fermented twice. The second fermentation takes place in the bottle and produces the fizz that champagne is famous for.
At the end of the second fermentation the sediments are removed in an elaborate process that involves tilting the bottles so their necks are pointing downward and periodically turning them. After a time, all of the sediments will have gathered in the neck of the champagne bottle, which is then quickly frozen. The champagne is uncorked and the frozen plug of sediment is expelled along with a small of amount of wine.
It is is this bit of the champagne that is used to make Reims vinegar.
Just as with other vinegars, it is through the action of a bacteria that the champagne is transformed into vinegar. This is then filtered and aged for a year in oak barrels. Finally the vinegar is bottled and marketed. Four years have passed since the time the grape was picked from the vine!
Cooking with Champagne Vinegar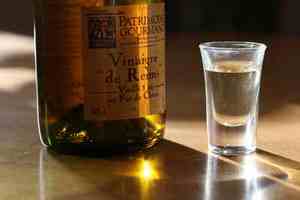 Champagne vinegar can be used in any recipe calling for vinegar where you would like to add only a mildly acidic taste, which natrually enough recalls the flavor of champagne. It is not a strong vinegar and marries well with many foods. French chefs use this vinegar to draw out flavors from other foods. Here are a few ideas to get you started:
A vinaigrette prepared with truffle oil and Reims vinegar makes an elegant salad dressing.
Mix it with olive oil and herbs for a wonderful chicken marinade.
Add it to tomato sauces. You'll be surprised by the dimension of flavor it adds.
Use it in beurre blanc sauce, hollandaise sauce and bernaise sauce.
Try it in this satisfying Hot Potato Salad recipe direct from the champagne region itself.
Return to Gourmet Cooking Supplies.
New!

Comments

Have your say about what you just read! Leave me a comment in the box below.