Lentil Salad Recipe
This easy lentil salad recipe calls for fresh goat cheese and lentilles du Puy. These are small green lentils that are grown only in the Auvergne region of France.
The Lofty Lentil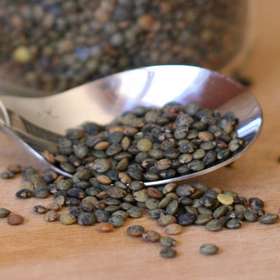 People can go quite batty over French green lentils, even calling them poor man's caviar! Les lentilles du Puy are crowned with an AOC (appellation d'origine controlée) meaning that only lentils grown in a specific area and respecting the conditions spelled out in the appelation can be sold under this name. It's a sign of high quality.
Of course, you might not be able to find these particular lentils, and nothing should stop you from trying this salad with another sort of lentil, although green lentils will certainly give the best results.
Versatile Salad
You can add different things on top of this easy salad recipe. For this particular lentil salad recipe, I've recommended fresh goat cheese but feta would go nicely as well. Or try chopped apples or artichoke hearts. You could serve this salad as a first course or as a main vegetarian course with a hearty bread. You may also like it with bacon, or as a side dish with fish or meat.