Lentil Salad Recipe
This easy lentil salad recipe calls for fresh goat cheese and lentilles du Puy. These are small green lentils that are grown only in the Auvergne region of France.
The Lofty Lentil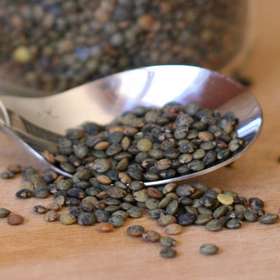 People can go quite batty over French green lentils, even calling them poor man's caviar! Les lentilles du Puy are crowned with an AOC (appellation d'origine controlée) meaning that only lentils grown in a specific area and respecting the conditions spelled out in the appelation can be sold under this name. It's a sign of high quality.
Of course, you might not be able to find these particular lentils, and nothing should stop you from trying this salad with another sort of lentil, although green lentils will certainly give the best results.
Versatile Salad
You can add different things on top of this easy salad recipe. For this particular lentil salad recipe, I've recommended fresh goat cheese but feta would go nicely as well. Or try chopped apples or artichoke hearts. You could serve this salad as a first course or as a main vegetarian course with a hearty bread. You may also like it with bacon, or as a side dish with fish or meat.
Salade Tiède de Lentilles
Makes 4 servings
Ingredients
For the lentils:
1 cup small green lentils (

Lentilles du Puy

)
2 tablespoons olive oil
2 cloves garlic, minced or pressed
1 onion, finely chopped
2 teaspoons mixed dried herbs
salt and pepper
1 cup dry white wine
2 cups water
For the vinaigrette:
1/4 cup olive oil
1 1/2 tablespoons red wine vinegar
1/2 teaspoon mustard
1 teaspoon mixed dried herbs
salt and pepper
For the finish
mixed salad greens
4 ounces fresh goat cheese
Directions
In a saucepan, cook the onions and garlic in the olive oil for about 5 minutes or until soft. Stir in herbs, salt and pepper. Add wine, water and lentils and bring to a boil.
Turn down heat and cover tightly with a lid. Cook for 30 - 40 minutes, until lentils are done. You may need to drain some water off after cooking.
Prepare the vinaigrette by mixing all of the ingredients and shaking vigorously. Pour the vinegarette on top of the warm lentils. Serve on a bed of mixed greens (a mix of baby greens would be perfect) and top with crumbled goat's cheese.
New!

Comments

Have your say about what you just read! Leave me a comment in the box below.