Carrot Salad Recipe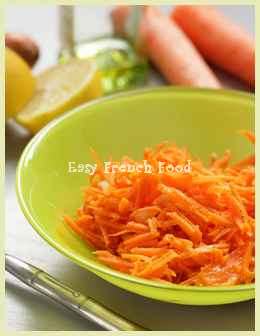 This carrot salad recipe is one you are likely to make over and over again. It is so popular in France that you can almost always find it in the deli case of the grocery store. However, it is much tastier when you shred and dress the carrots yourself, and for the small amount of work involved, I really can't imagine why anyone buys this French salad already made.
Serving Suggestions
With Grilled Foods: You might like to serve this carrot salad recipe at your next barbecue. The crunchy, tangy yet sweet carrots go perfectly with grilled meats.
In Sandwiches: You can also use this carrot salad recipe as a sandwich ingredient - try it with humus for a great tasting vegetarian lunch. Some people love grated carrots with peanut butter as well.
French Food: The French like to serve this salad with many things, including savory crepes, omelets, quiches and tarts.
Selecting Carrots
Since this easy salad recipe contains little other than carrots, you will only want to use the freshest sweetest, carrots you can find. Here are a few tips for selecting and storing carrots:
Look for medium sized, smooth skinned, and vibrantly colored carrots. It's good if they still have their green tops on. Larger, thicker carrots tend to have less flavor and be tougher.
Remove the green tops before refrigerating your carrots. The greens can actually dehydrate the rest of the carrot in your refrigerator.
Don't use baby carrots to make this recipe if you can help it, as they are usually not sweet enough. (Did you know that many times they aren't babies at all, they've just been carved out of larger, older carrots? Yikes!)
Salade de carottes
Makes 4 to 6 servings
Ingredients
1 pound of carrots
1/3 cup olive oil
1 tablespoon lemon juice
1/4 teaspoon salt
1/4 teaspoon pepper
1 shallot finely chopped (or substitute 2 tablespoons finely chopped red onion)
Directions
Peel the carrots and use a food processor to shred them.
In a medium sized bowl, whisk together the olive oil, lemon juice, salt and pepper. Stir in the shallots and then add the carrots. Mix until the carrots are completely dressed.
Cover and let this salad sit for an hour in the refrigerator to allow the flavors to blend.
Carrot Salad Recipe Variations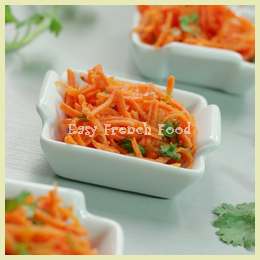 A l'orange: Add two oranges, cut in small pieces for a vitamin rich, super salad.
Au thon: Add a can of drained, flaked tuna and a couple of chopped hard boiled eggs. Serve with French bread for a complete meal.
Au persil: For color contrast, add several tablespoons of chopped, fresh, flat leaved parsley, mint, or coriander.
Au miel: Add two tablespoons of honey and a handful of toasted almond slivers for a sweeter salad.
More Carrot Recipes


Moroccan Carrot Salad


Carrot Soup Recipe


Glazed Carrots Recipe
New!

Comments

Have your say about what you just read! Leave me a comment in the box below.