Easy Beef Stew Recipe
Carbonade Flamande
This easy beef stew recipe comes from the region of Flanders, part of which is in northern France. Carbonnade makes a perfect stew to have simmering on the stove all afternoon long, enticing people to the table with its wonderful smell. The best part is that it requires little preparation and serving it with rice, noodles, or potatoes and a steamed vegetable, makes it a low effort meal.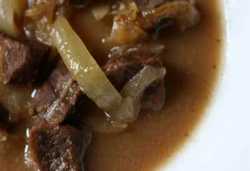 The Region of Flanders
If you travel north of Paris, you will come upon a very flat part of the world. This plain, which begins in northern France and stretches the entire length of Belgium and on on up into Holland, is known as Flanders, and the people who live here speak Flemish. Where exactly the region of Flanders sits is not clear, and changes over time and who you talk to. Like many places in the world where there are no real geographical barriers, the political borders are somewhat arbitrary and do not necessarily reflect marked differences in culture. If I were to say that this easy beef stew recipe is French, I would be stepping on a few Belgian toes, although it is certainly a speciality of many home cooks in northern France. Suffice it to say that carbonnade is a Flemish speciality and that a part of Picardy in the north of France is commonly called French Flanders. Some well known French foods are claimed to have originated in Flanders, including:
Soupe à l'oignon

: French onion soup. Of course there are several regions in France that claim ownership of this one.

Steak frites

: This is the omnipresent French meal of steak and French fries. You will find it served all over France and I think there are French people that basically survive on it. Who actually invented the French fry is a bone of contention between the Belgians and the French, and you can learn more about that amusing story here: The History of French Fries.

Tarte au sucre

: This is a sugar pie made with a yeast dough crust which is topped with

cassonade

(similar to raw sugar) and cream before baking. You can find a sugar pie recipe here.
What Beer to Use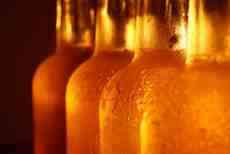 Since the only liquid in this easy beef stew recipe is from the beer, do pick a nice one. I've seen some recipes for carbonnade calling for heavy dark beers which can add to the sweetness, but you should be careful with this. If the beer tends to caramelize, you might want to leave out the sugar. Other dark beers risk to give the stew an undesirable bitterness. I make this easy beef stew recipe with Kronenbourg beer, which is what the French call a
bière blonde
, similar to a pilsner. It is a light colored yet flavorful beer which when combined with a small amount of sugar gives the stew just the right amount of sweetness. If you don't feel like experimenting, choose a pilsner and add the sugar for good results with this recipe.