Hot Potato Salad Recipe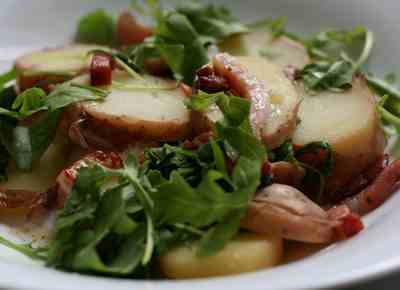 Here is a quickly made and very satisfying hot potato salad that features bacon, dandelion greens (you can use a substitute if you wish) and the world famous champagne vinegar, known as le vinaigre de Reims.
A Champagne Recipe
This easy salad recipe is similar to German potato salad, but by including salad greens and using champagne vinegar for the dressing, it becomes a popular speciality of the Champagne region. Most home cooks in Champagne-Ardenne (the official name of the region where champagne grapes are grown) have their own version for hot potato salad, and many recommend using pissenlit or dandelion greens for the greens.
I often make this with arugula, which you may be able to find more easily, and the results are just as fabulous. You really should use champagne vinegar to make this potato salad to get the authentic taste, but I won't tell if you substitute another high quality white wine vinegar.
Salade au Lard
Preparation time: 30 minutes
Makes 4 servings
Ingredients
1 pound potatoes
8 ounces meaty bacon, cut in small strips
4 cups dandelion greens (arugula or escarole will work as well)
1/3 cup champagne vinegar
1 tablespoon olive oil
1 teaspoon sugar
salt and pepper
Directions
Boil the potatoes in their skin until tender, but not falling apart.
Meanwhile cook the bacon until it has given up almost all of its fat - crispy, but not overcooked. Mix the vinegar, olive oil, sugar and salt and pepper to make a dressing.
Drain the potatoes, peel if you wish, and slice them in 1/4 inch rounds. Place the greens in the bottom of the pot you used to cook the potatoes and place the potatoes on top of the greens. Add the bacon and then the dressing. Stir together.
Serve hot. You can rewarm the potato salad if needed.
More Easy Salads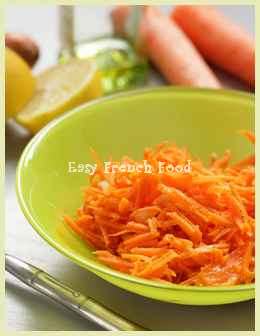 Carrot Salad
New!

Comments

Have your say about what you just read! Leave me a comment in the box below.