Easy Poached Salmon Recipe
This easy poached salmon recipe is one of the simplest and tastiest ways to enjoy this flavorful fish. By poaching your fish, you'll enjoy the added benefits of not stinking up your house and having a healthy, low fat meal . . . errr, well that is before you pour on the fabulous cream dill sauce that goes along with it.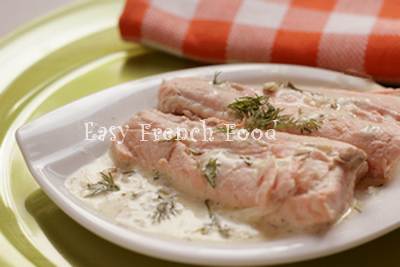 My grocery store sells what they call a "tranche de saumon", which is a completely boneless and skinless piece of salmon that works great for this recipe. You can use also poach tranversely cut steaks (what are called darnes de saumon in France) for this recipe or a salmon filet with the skin still on.
If you are working with a filet, look it over carefully for stray bones and use a pair of tweezers (yes!) to remove them. Then place the filet skin side down in the cooking liquid, and ensure that it is nearly submerged. You can then cook the filet without having to turn it.
The only tricky part about this poached salmon recipe is getting the cooking time right. You'll want to stop cooking your salmon just as soon as it is done. You can take a discrete peek in the thickest part of the cooking fish to verify it's doneness. No need to overcook!
Here are some general guidelines for cooking time based on the thickness of the salmon:
1/4 to 1/3-inch - 3 to 4 minutes
1/2 to 3/4-inch - 4 to 6 minutes
1 to 1 1/2-inch - 8 to 12 minutes
If you are an ascetic, you will enjoy your salmon without any sauce. It's actually such a flavorful, moist fish that you may feel no twinge of denial at all. For the rest of us, I highly recommend this quick dill sauce recipe as an accompaniment. If you are looking for another easy French fish recipe, this baked fish recipe is next to no fuss.