Salmon en Papillote
Salmon en papillote is a simple, no fuss way to cook fish that works every time. You can use this method to cook numerous kinds of fish, but also chicken breasts, vegetables and fruit. By changing seasonings and ingredients, you can come up with an infinite variety of quick and easy meals.
Recipe Notes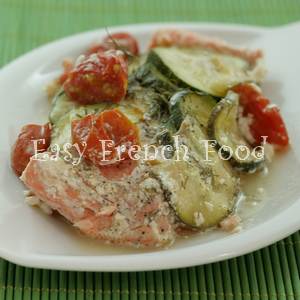 Salmon en papillote
The following salmon en papillote recipe outlines the basic way to cook salmon en papillote. With a little imagination you can come up with dozens of tasty variations.
Any of these additional ingredients or seasonings can be used successfully when creating your own recipe ideas. Be sure to slice most ingredients thinly, taking into consideration the cooking time for the main ingredient. Some ingredients, like potatoes and onions, should be cooked a bit beforehand. Also, go lightly with liquid ingredients or you will end up with a soupy papillote.
Fish: Cod, sea bass, halibut

Vegetables: Mushrooms, carrots, cabbage, fennel, leeks, scallions, shallots, onions, garlic, tomatoes (watch out for the juice factor), potatoes (parboiled)

Herbs: Parsley, tarragon, chervil, mint, basil, thyme, rosemary

Other Seasonings: Cumin, coriander, curry, cayenne pepper

Other Ingredients: White wine, cream, mustard, pesto sauce, butter, grilled nuts, olives, capers, fruits
For more papillote inspiration, try this foiled baked salmon recipe that includes ginger, honey and curry.
Saumon en Papillote
Servings: 4
Ingredients
4 (6 ounce) salmon fillets
1 medium sized zucchini
8 ounces cherry tomatoes
1/4 cup crème fraîche
1 lemon
handful of fresh dill
salt and pepper
Preheat oven to 400° F.
Slice the zucchini into 1/8 inch rounds. Slice the tomatoes in two. Chop the fresh dill.
Dry the fillets with paper towel and season with a little salt and pepper. Place each fillet on a separate rectangle of aluminum foil (about 12X8 inches should do it).
Arrange the zucchini and tomatoes on top of each fillet. Squeeze on a little lemon juice.
Top this with a dollop of crème fraîche. Sprinkle on the dill.
Wrap each piece of fish in its aluminum foil, making sure there are no gaps or tears that might leak. Place the bundles in an oven proof baking dish and then in the hot oven.
Bake for 15 minutes.
To serve, you can either allow everyone to open their own papillote or open them yourself and arrange the contents on a plate.
Accompaniment: Rice, potatoes, or couscous
How to cook en papillote
To cook your food en papillote, you simply wrap it up and bake it in the oven. Moisture is locked into the papillote. Even low-fat foods that might normally dry out from baking come out moist and flavorful.
There are several different methods you can use to lock in moisture.
Foil

- Aluminum foil is probably the most convenient way to cook en papillote. Home chefs usually have a roll in the kitchen drawer. Technically you need not worry how you wrap your food up, just make sure it is sealed so that no liquid or steam can escape. If the papillote contains a lot of acid (lemon juice or vinegar), there may be some risk of it reacting with the foil. Parchment paper is probably preferable in such cases.

Parchment

- Typically parchment paper is cut in a large heart shape. Food is placed to one side of the heart, which is then folded over. The edges are rolled together to seal the packet. Serving food wrapped in parchment paper certainly adds a touch of elegance to the dining table. One drawback of paper is that you can't peek inside to see if things are cooked.

Silicone Steamers

- These are a huge hit in France. Just pop your ingredients into one of these attractive containers and that's it. You can use these in the microwave or the oven and they can even be brought to the table.
New!

Comments

Have your say about what you just read! Leave me a comment in the box below.