Salmon en Papillote
Salmon en papillote is a simple, no fuss way to cook fish that works every time. You can use this method to cook numerous kinds of fish, but also chicken breasts, vegetables and fruit. By changing seasonings and ingredients, you can come up with an infinite variety of quick and easy meals.
Recipe Notes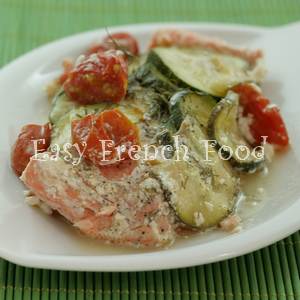 Salmon en papillote
The following salmon en papillote recipe outlines the basic way to cook salmon en papillote. With a little imagination you can come up with dozens of tasty variations.
Any of these additional ingredients or seasonings can be used successfully when creating your own recipe ideas. Be sure to slice most ingredients thinly, taking into consideration the cooking time for the main ingredient. Some ingredients, like potatoes and onions, should be cooked a bit beforehand. Also, go lightly with liquid ingredients or you will end up with a soupy papillote.
Fish: Cod, sea bass, halibut

Vegetables: Mushrooms, carrots, cabbage, fennel, leeks, scallions, shallots, onions, garlic, tomatoes (watch out for the juice factor), potatoes (parboiled)

Herbs: Parsley, tarragon, chervil, mint, basil, thyme, rosemary

Other Seasonings: Cumin, coriander, curry, cayenne pepper

Other Ingredients: White wine, cream, mustard, pesto sauce, butter, grilled nuts, olives, capers, fruits
For more papillote inspiration, try this foiled baked salmon recipe that includes ginger, honey and curry.