Salmon Quiche Recipe
This delicious salmon quiche recipe goes together in a matter of minutes. If you bake some potatoes at the same time and serve it all with a simple tossed salad, you'll have a complete meal ready in about an hour and not much to clean up afterwards.
Recipe Notes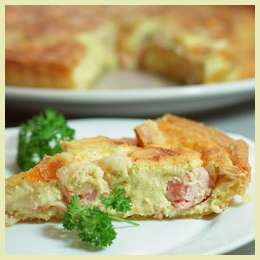 Salmon
Frozen salmon filets work great for this salmon quiche recipe where the salmon is somewhat "covered" by the other ingredients. To thaw seafood take it out of the freezer and place it in the refrigerator 24 hours before you intend to cook.
You could also use canned fish in this salmon quiche recipe, but the results may be slightly less flavorful. Of course if you have fresh salmon filets, go right ahead and use them.
Pie Crust
I almost always use a packaged pie crust these days. I used to feel obliged to make my own, but then I realized this obligation was what stood between me and making tarts and quiches more often.
I truly believe that we should eat far less convenience foods, but I also believe that cooking should be a pleasure. Just as in most things in life, le juste milieu is often the solution. Read more about quiche and tart pastry types here.
Crème Fraîche
If you haven't tried this great tasting dairy product from France, I highly recommend you give it a try. It has a slightly tart, yet nutty flavor that compliments many foods.
If you find it expensive or unavailable, try making your own with this very easy creme fraiche recipe. Of course, you can always substitute heavy cream, half and half, or even milk in quiche recipes - each will give a slightly different flavor and texture.
Quiche au saumon
Makes 6 servings
Ingredients
1 round puff pastry (9 inch pie size)
3 shallots, chopped finely
2 tablespoons butter
12 ounces salmon filet, diced in 1/4 inch pieces
4 ounces (about 1 cup) shredded cheese - Gruyère, Emmental, or Swiss
4 eggs
1-1/2 cups crème fraîche
1/2 teaspoon salt
1/4 teaspoon pepper
dash of cayenne
Directions
Fit the puff pastry (you can also use a regular pie crust if you prefer) to a 9 inch tart pan. Pierce the bottom with the tines of a fork about 15 times. Place the pan in the freezer and chill for at least 20 minutes.
After chilling, prebake the crust in the oven for 12 minutes at 400°F. Remove from oven and allow to cool for at least ten minutes before filling.
Meanwhile, melt the butter in a medium sized skillet on low-medium heat. Add the shallots and cook for five minutes, stirring frequently to avoid browning. Add the salmon and heat just until the salmon is cooked through.
Remove from heat and spread the filling in the cooled crust.
Sprinkle evenly with shredded cheese.
Whisk the eggs, creme fraiche, salt, pepper, and cayenne together until combined. Pour on top of the other ingredients and place the quiche in the oven to bake for 40 minutes at 375° F.
Related Recipes


Poached Salmon Recipe


Salmon Casserole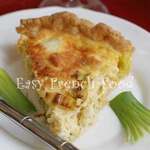 Crab Quiche
New!

Comments

Have your say about what you just read! Leave me a comment in the box below.