Mussels Recipe
French Seafood Recipe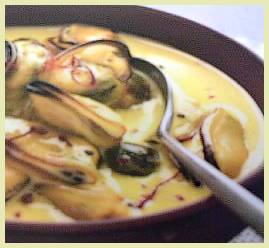 This mussels recipe is a contribution from fellow food writer, Robert-Gilles Martineau who publishes the blog Shizuoka Gourmet, At Shizouka Gourmet you'll find lots of great recipes, French and otherwise. I really enjoy Robert-Gilles recipes because they always seem to be something I could actually imagine myself making.
Mussels in France
Robert-Gilles points out that mussels are very popular in France, particularly in the north. Some people collect mussels in coastal tide pools, but they are also cultivated on the Atlantic and Mediterranean seaboards of France, as well as being imported from other countries.
One of the most popular seafood items at casual restaurants throughout France is moules-frites. If you order this, expect to find yourself with a mound of mussels still in their shell and a plate full of French fries. Meant to be eaten with gusto.