Fish Soup Recipe
We love this easy fish soup recipe. Making it with frozen fish and scallops works just fine, so you can decide to make it at the last minute. You can vary the seafood according to what you have. Other than that, all you need to have on hand to make this fish soup recipe are a few fresh vegetables.
Scallops - What I Didn't Know!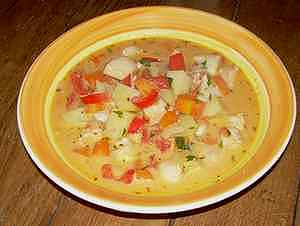 If you have eaten scallops, it has probably just been the "eye" or adductor muscle, a roundish, bite-sized, white piece of the scallop. In France, you will sometimes find scallops sold and served with the corail included. This is an orange-red extension to the muscle. I've eaten this part of the scallop here in France, although I have never prepared it. Imagine my surprise when I found out that this is the scallop's genital gland that only appears several months before it's reproductive period! Kind of changes how I feel about eating it.
Valentine's Day
My husband made a romantic dinner for me this past Valentine's Day. He searched the internet and found a pasta recipe featuring scallops, which he knew I liked but didn't serve often because they were expensive.
Off to the grocery store he went to get the necessary provisions and was very pleased to find scallops selling for five euros a kilogram (about 3 1/2 dollars a pound). He felt a bit silly asking the fishmonger for just the 200 grams he needed for his recipe, so he just went ahead and ordered a kilogram. The fishmonger weighed it out for him and handed him the receipt: 50 euros (or about 80 dollars)! Turns out that scallops are so expensive they sell them by the 100 grams.
When I went to make this fish soup recipe, I was very pleased to find that frozen scallops sell for considerably less. And they don't have that funny orange thing on them either! For this fish soup recipe, you can cut the scallops in two or three if they are large.
The secret to cooking scallops is to not over-cook them. That means about two minutes total in the hot soup and they should be done. If you cook them too much, they become rubbery.
Serve this with garlic bread for a warm and satisfying dinner.