Salmon Casserole Recipe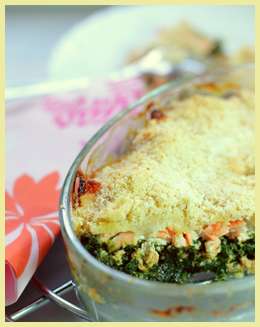 This easy salmon casserole recipe is in response to a request from a reader whose daughter had visited France and come back with fond memories of a dish fixed by her French host. Being readily available and relatively inexpensive here in France, salmon is a popular fish to cook with. You will find lots of easy baked salmon recipes and people are endlessly creative in using this tasty fish. Other baked salmon possibilities include:
Layering it with mashed potatoes for a salmon

parmentier

.
Mixing in rice and different vegetables (broccoli, spinach, or leeks are good with this fish).
Salmon can be included in tarts, quiches and lasagna as well.
And

bien sur

, you can always simply bake it

en papilotte

(wrapped in parchment paper) with a splash of cream or wine and a sprinkle of fresh herbs.
Crumble de saumon aux épinards
Preparation Time: 30 minutes
Baking Time: 40 minutes
Makes 6 servings
Ingredients
1 onion, chopped
2 leeks, cleaned and sliced in 1/8 inch rounds
20 ounces chopped frozen spinach thawed and drained
1 tablespoon olive oil
1 1/2 pounds salmon filets, cut in 1/2 inch cubes
1 cup crème fraîche (or substitute 1 cup whipping cream)
2 teaspoons chopped dill (fresh if possible)
2 teaspoons prepared mustard
juice of one lemon
1/2 teaspoon each salt and pepper

For the crumble topping:

4 tablespoons cold butter, cut in smaller pieces
1/4 cup flour
1/2 cup bread crumbs
1/4 cup grated parmesan cheese
Directions
Heat the olive oil in a skillet on medium heat and add the leeks and onions. Cook, stirring occasionally, for 10 minutes or until the vegetables are softened. Add the drained spinach and cook until heated through. Season lightly with salt and pepper.
Meanwhile mix the salmon pieces with the crème fraîche, dill, mustard, lemon juice and salt and pepper.
Place the butter, flour, bread crumbs and parmesan cheese in a bowl and crumble together with a pastry blender. The mixture should resemble coarse bread crumbs.
In a greased 13X9 inch Pyrex baking pan or equivalent, spread the spinach into an even layer. Top with the salmon and then sprinkle with the crumble.
Bake at 350°F for 40 minutes. Serve hot. Goes well with wild rice.
If you want to make this salmon casserole ahead of time, prepare the salmon and fish layers, then cover and refrigerate. Mix the crumble and refrigerate separately. Sprinkle the casserole with the crumble just before baking.
Casserole Crumble
I've noticed a bit of a crumble mania going on with French home cooks these days. You'll find it on top of sweet dishes and of course fruit crumbles have always been popular, but these days it is starring in a lot of savory dishes as well. Crumbles are a quick way to add flavor and crunch to casserole dishes without a lot of effort.
This salmon casserole recipe gets a topping of flour, butter, fine bread crumbs (called chapelure), and parmesan cheese before it goes in the oven. The crumble insures that the salmon stays moist and flavorful.
New!

Comments

Have your say about what you just read! Leave me a comment in the box below.