Chicken Cordon Bleu Recipe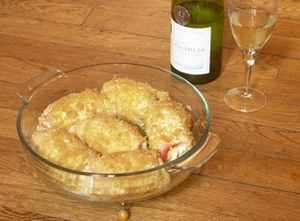 Some say this chicken cordon bleu recipe originated outside of France, but it is certainly eaten a lot in France and it has a French name, so we'll consider it French. The recipe here is for a baked chicken cordon bleu, which is perhaps a bit healthier and easier then frying the breaded chicken and ham rolls in a pan. You'll also find a quick chicken cordon bleu sauce to pour on top.
Baked Chicken Cordon Bleu Recipe
A chicken cordon bleu recipe may call for the deep fat frying of the rolled chicken and ham, but here I've baked them in the oven. You'll find this to be less messy and at least somewhat less fatty. You could substitute turkey breasts for the chicken breasts and have the same good results.
Chicken Cordon Bleu
Poulet cordon bleu
Prep time: 30 min
Bake time: 30 min
Makes 4 servings.
Ingredients
4 chicken breast filets, skinned
salt and pepper
4 slices ham
4 slices of cheese, such as Swiss
1 egg, beaten
1 cup bread crumbs
4 tablespoons butter
Directions
Using a wooden meat hammer, pound the chicken breasts to about 1/4 inch thick. Or place the breasts between pieces of wax paper or in a heavy plastic bag and use your rolling pin to flatten them.
Lay out the chicken breasts and sprinkle lightly with salt and pepper. Top each with a slice of cheese and a slice of ham. Roll the chicken up tightly.
Dredge the rolls in the egg and then in the bread crumbs, coating them well. Use toothpicks to hold them together if you wish. Place the rolls in a greased baking pan, seam side down. Place 1 tablespoon of butter on top of each roll.
Bake at 350°F for about 30 to 35 minutes.
Chicken Cordon Bleu Sauce
Makes 1/2 cup
Ingredients
2 shallots, chopped finely
2 tablespoons butter
1/2 cup whipping cream
Melt the butter in a small saucepan on low heat and add the shallots. Cook the shallots for 7 or 8 minutes, stirring occasionally. Add the cream and warm through. That's it, ready to serve.
Le Cordon Bleu
In 1578, during the thick of the religious war between Catholics and Protestants, the king of France, Henry III, created a new order of knights known as L'Ordre du Saint-Esprit, or the Order of the Holy Spirit. The mission of its members was to fight for Catholicism. To mark themselves as a member, the knights wore a Maltese cross hanging from a blue cord around their neck.
For two centuries membership in this order was considered a high honor and the wearing of the blue cord became a mark of considerable distinction. Eventually with the start of the French Revolution, the order was banished, replaced somewhat by La Légion d'honneur, which persists to this day as a distinction in France.
It is said that the members of the order, with blue ribbons hanging about their necks, would gather for fabulous feasts prepared by the finest chefs in the land. Eventually, with the abolition of the order, the blue ribbon came to be associated with the cooks rather than the knights themselves. The notion of a blue ribbon indicating the best of something has spread across the world.
In France, you will hear home cooks refer to themselves as a cordon bleu (or not as the case may be), meaning that they are an accomplished chef. You have probably heard of Le Cordon Bleu, which originated over a hundred years and is considered a top notch cooking school with branches around the globe.

New!

Comments

Have your say about what you just read! Leave me a comment in the box below.