Chicken Fricassee Recipe
Here is an easy French recipe for chicken fricassee that includes the lovely flavor of tarragon, along with mushrooms, cream and white wine. It goes together very quickly, yet is rich and satisfying, even elegant. You can follow it to the letter for guaranteed good results, or feel free to change it around according to what you might have on hand.
Recipe Notes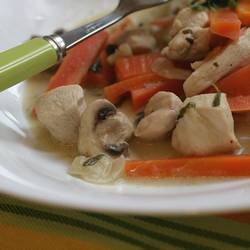 Tarragon. Although you may not be familiar with it, tarragon is a very common herb used in lots of French cooking. It is often used to flavor white wine or champagne vinegar and pairs very nicely with chicken as in this dish. You will frequently find this plant growing in people's herb gardens in France, and it is fairly easy to grow. If you haven't explored this flavor, I encourage you to give it a try.
However, if you don't wish to flavor your chicken fricassee with tarragon, it certainly isn't essential. Try any other herb or combination of herbs you wish. Thyme or rosemary would also go nicely with this particular recipe. Remember that when changing herbs around 1 tablespoon of dried herbs usually substitutes for about 3 tablespoons of fresh, and that some herbs are much stronger flavors than others. Experimentation though is always fun.
Serving Suggestions. Since this chicken fricassee recipe gets a dose of high calorie (and very delicious) crème fraîche for the final touch, you might want to save it for meals when you are having company. You could make it ahead and gently rewarm it to serve without losing much of its deliciousness.
It goes well with rice, and I love it with brown rice or a wild rice blend. Go light with the entree (tossed salads are an eternal favorite here in France too), and serve something with fruit for dessert.
Fricassée de Poulet
Prep time: 20 min
Cook time: 30 min
Makes 6 servings
Ingredients
2 tablespoons butter
2 tablespoons olive oil
1 onion, peeled and chopped
2 cloves of garlic, peeled and minced or crushed
1 1/2 pounds skinned chicken breasts, cubed in bite sized pieces
1/2 teaspoon pepper
1/2 teaspoon salt
3 tablespoons flour
1 cup water
1/2 cup white wine
1/2 pound mushrooms, cleaned and sliced 1/4 inch
3 medium carrots, scraped and julienned in 1/4 inch wide strips
3 tablespoons chopped fresh tarragon
1/2 cup crème fraîche or whipping cream
Directions
Melt the butter and olive oil together in a Dutch oven or other heavy large skillet on medium heat. Add the chopped onion and crushed garlic and cook for five minutes stirring occasionally.
Add the chicken and brown on all sides - about five minutes. Stir in salt and pepper.
Sprinkle the top of the chicken with the flour and stir for 1 minute, thoroughly coating the chicken with the flour. Stir in the water and wine and then the prepared mushrooms, carrots and tarragon. Bring to a low boil, cover and simmer on medium low heat for 15 minutes or just until the vegetables are cooked as you like them.
Turn off the heat and stir in the crème fraîche. Serve hot.
Meaning of Fricassée. This is a loosely used term in French cooking. You will find lamb, veal and rabbit fricassées as well as mushroom fricassée. Basically it is a cooking method where the meat and/or vegetables are browned lightly in butter, sprinkled with flour and than cooked in bouillon or wine. As the meat and vegetables finish cooking the flour thickens the liquid and you get a sauce with no effort.
In France the term fricassée has been shortened to fricot, a somewhat slangy term referring to any simple but tasty dish.
New!

Comments

Have your say about what you just read! Leave me a comment in the box below.