Basic Quiche Recipe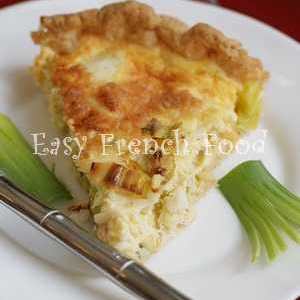 Once you understand this basic quiche recipe you can change the ingredients around to accommodate what you have on hand and what you feel like cooking and eating.
Quiche Crust
You can use either a traditional pie crust (called a pâte brisé) or a puff pastry crust (pâte feuilletée) when making quiche. Using a store bought pastry often means the difference between making a homemade meal or not, so please do nto hesitate to use them if you must. However, making your own is easier than you maight think, especially with these two shortcut recipes:
Basic Quiche Recipe
Preparation Time: 15 minutes
Baking Time: 35 minutes
Makes 6 servings
Ingredients
1 pie crust
2 cups filling
4 eggs
1 - 1/2 cups crème fraîche, heavy cream, half and half, or whole milk
1/2 teaspoon salt
1/4 teaspoon pepper
dash of nutmeg
Directions
Fit the crust to a tart or pie pan, then prick the bottom all over with a fork. Place the pan in the freezer for 20 minutes or longer, then bake in a 400°F oven for 12 minutes. Allow to cool for 10 minutes before adding the other ingredients.
Prepare the filling ingredients. Vegetables should be blanched to tenderize them and meat or seafood should be cooked. Cheese should be shredded or diced.
Layer the ingredients in the cooled quiche crust, starting with the meat or vegetables, then adding the cheese.
Using a whisk, beat together the eggs, creme fraiche (or heavy cream, half and half, or whole milk), and seasonings. Whisk just until mixed.
Pour the egg mixture on top of the quiche crust and place in 375°F oven for 40 minutes, or just until the eggs are set (the quiche will continue to cook some after you remove it from the oven, so be sure not to over cook it). The quiche will puff up and turn a nice golden brown on top.
Cool for 10 minutes, then serve.
Add your choice of ingredients . . .
Vegetables: Popular vegetables in quiches incldue broccoli, zucchini, bell peppers, green onions, cauliflower, tomatoes, onions, leeks, asparagus, spinach and mushrooms.
Meat and Seafood: Try bacon, ham, ground beef, sausage, crab, tuna, salmon, surimi or lobster.
Cheese: A variety of cheeses can be used including: gouda, gruyère, swiss, cheddar, jack, parmesan, and goat cheese.
Seasonings: Dill, thyme, basil, parsley and other herbs. Cumin, nutmeg, cayenne pepper and other spices. Mustard.
New!

Comments

Have your say about what you just read! Leave me a comment in the box below.