Quiche Lorraine Recipe
Here is a classic quiche Lorraine recipe. In France, this is often made with crème fraîche, but you can substitute heavy cream, which may be more readily available and more reasonably priced if you live outside of France.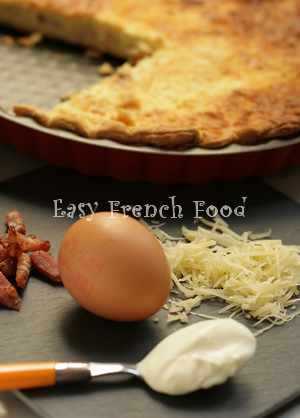 Bacon is popular in the cooking of Lorraine, as in this quiche Lorraine recipe. The inclusion of cheese is open to debate. No less of an authority than August Escoffier himself mentions that cheese is not included in the traditional quiche Lorraine recipe. However, I think most French home cooks include some these days.
Once again I recommend using a store bought pastry pie crust in order to save time. If you do have time, please don't hesitate to make your own pie crust.
Quiche is best served warm or at room temperature. It can be rewarmed in a hot oven. See these basic quiche making tips for more information on how to make quiche.
Crème Fraîche
The delicious sightly nutty, slightly sour taste of crème fraîche makes frequent appearances in French recipes. Its thick, velvety consistency can be hard to match if you have none available.
The good news is that you can make your own with very decent results, just follow this creme fraiche recipe.
Quiche Lorraine
Makes 6 servings
Ingredients
1 roll of puff pastry dough or use a homemade pie crust
8 ounces lean bacon (or use

lardons

if you can get them)
4 large eggs
1 and 1/2 cups crème fraîche or whipping cream
1/4 teaspoon nutmeg
salt and pepper
1 cup diced Gruyère, Emmental, or Swiss cheese
Directions
Begin by blind baking the tart shell. Fit the pastry dough to a 10 inch tart pan, pressing it firmly to the edges and bottom of the pan. Use a rolling pin to roll over the top and pinch off any extra dough. Prick the tart shell in dozens of places with the tines of a fork, then place the tart pan in the freezer for at least 20 minutes.
Preheat the oven to 400° F. Remove the well chilled tart shell from the freezer and immediately place it in the hot oven to bake for 10 minutes. Remove from the oven and allow to cool.
Slice the bacon in 1/4 by 1 inch strips and fry in a small skillet on low heat for about 5 minutes.
Whisk the eggs with the crème fraîche or whipping cream just until blended. Whisk in the nutmeg and a pinch or two of salt and pepper.
Evenly spread the diced cheese and the cooked bacon on the bottom of the cooled tart shell. Pour the beaten eggs and cream on top of this. Carefully place the tart pan in the oven.
Bake at 400°F for 30 minutes.
The Lorraine Region
The Lorraine region of France is in the east where it shares a border with Germany, Belgium and Luxembourg. The cooking of Lorraine features lots of baking and hearty food. Testament to a long and rich culinary history, there are many local specialities that are well known all over France, including:
Les mirabelles

- Small, yellow plums that are emblematic of the Lorraine region.
Les madeleines de Commercy

- Shell shaped teacakes.
La potée Lorrain

e - A hearty soup made with any number of vegetables and cuts of meat.
Les dragées de Verdun

- Candied covered almonds made according to a long standing tradition.
Les bergamotes de Nancy

- Hard candies flavored with bergamot, a citrus fruit.
New!

Comments

Have your say about what you just read! Leave me a comment in the box below.