Vegetarian Quiche Recipe
My family likes this vegetarian quiche recipe even more than the standard Quiche Lorraine. Rich with zucchini and goat cheese, it makes a great first course, or serve it as a main dish accompanied by a baked potato.
Recipe Notes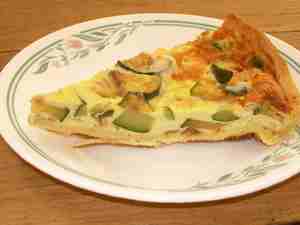 This recipe calls for crème fraîche a frequent ingredient in French cooking. If you are unable to find this delicious French dairy product or just want to save some money, here is an easy creme fraiche recipe that gives excellent results. In this recipe you can also subsitute heavy whipping cream for the creme fraiche, or if you want to go lighter, try half and half.
Also note that this vegetarian quiche recipe is very adaptable. Try making it with other vegetables or cheeses. Just make sure you cook the vegetables until they are somewhat tender before baking them in the quiche.
Pie Crust Tip
It is always helpful to freeze a pie or tart crust before blind baking it like in this recipe. This helps to keep the crust from slipping down the edges of the pan and making unsightly bubbles or splits. Just fit the crust to the tart pan, prick it with a fork in several places, then place in freezer for 15 minutes to half an hour before baking.
Quiche aux Courgettes
Serves 6
Ingredients
1 unsweetened pie crust (you can either make your own or use a ready made)
2 tablespoons butter
1 onion, chopped
2 medium sized zucchinis
6 ounces crumbled goat cheese
salt and pepper
4 eggs
1 cup crème fraîche
1/4 teaspoon nutmeg
Directions
Fit the pie crust to a tart pan, using a rolling pin to cut off the top edges. Place in freezer for 15 minutes or longer, then bake at 400°F for 10 minutes. Remove from oven and let cool before filling.
Meanwhile, melt the butter in a pan and add onions cooking about 5 minutes. Add zucchini and cook 10 minutes longer. Salt and pepper to taste. Remove from heat and spread evenly into bottom of cooled pie crust.
Sprinkle evenly with goat cheese. Beat the eggs with the crème fraîche, nutmeg and salt and pepper. Pour on top of vegetables and cheese and bake for 30 minutes at 400°F.