Ham and Cheese Quiche Recipe
Just an easy ham and cheese quiche that goes together in a couple of minutes if you cheat, like I do, and use a prepared crust. Serve this with a simple green salad tossed with a lively vinaigrette and your meal is on the table with next to no effort.
Recipe Notes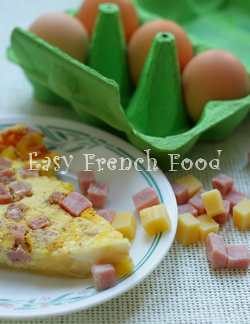 The Cheese
Use a nice flavorful cheese in your quiche to get a nice flavorful result. I like to use comté cheese - one of my favorites. Any sort of quality hard cheese (such as Gruyère or Emmental) will work just fine. Note that this ham and cheese quiche calls for cubed cheese instead of grated. You can grate it if you prefer, but I like the effect of distinct bites of melted cheese in my quiche.
The Crust
Although it is on my list to change this terrible lack of gumption, I am still guilty of using only prepared tart crusts. Here in France they are always beckoning to me at the grocery store - such a selection and so easy to use. You, on the other hand, and much to your merit, may be a crust expert. If so, please go right ahead and make your own. Pate brisée (like a regular unsweetened pie crust) or puff pastry works fine for quiche.
The Cream
As always with quiche you can use either whole milk, half and half, cream, or crème fraîche. These days I like ham and cheese quiche with whole milk, but the higher fat alternatives do give a much creamier texture. Anyway you make it, the basic quiche recipe is a rich dish. Serve small slices as an entree, or larger slices with a generous green salad for a main meal.