Onion Sauce Recipe
This onion sauce recipe, known as Sauce Soubise in France, is made using the same technique as a bechamel sauce.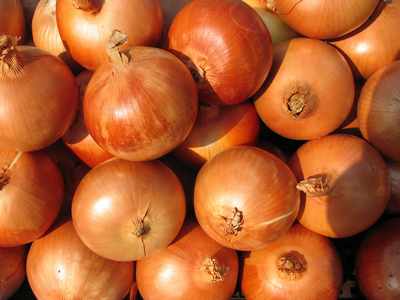 You could serve it on a simple grilled meat such as lamb or pork. It would also go well and add some substance to steamed vegetables, or try it on a baked potato.
In this recipe, you can puree the onions before adding them to the sauce. This is often done in France to give a more refined sauce, but it isn't necessary and I wouldn't bother if you are just looking for a quick way to add some extra flavor to your meal.
Sauce Soubise
Makes about 1 1/3 cups sauce
Ingredients
2 white onions, chopped finely
4 tablespoons butter (two for cooking the onion, and two to make the roux)
2 tablespoons flour
1 cup milk
salt and pepper
3 tablespoons heavy cream
Directions
Cook the onions in 2 tablespoons butter until they are very soft (about 12 minutes). They should not brown.
In a saucepan, melt the other 2 tablespoons of butter and incorporate the flour, stirring over low heat for two minutes.
Gradually whisk in the milk, blending well after each addition. Cook the sauce over low to medium heat until it thickens and comes just to a boil.
Remove from heat and stir in the cooked onions and heavy cream.
New!

Comments

Have your say about what you just read! Leave me a comment in the box below.