Aioli Recipe
This basic aioli recipe is for a lemon and garlic mayonnaise that goes well with crab, shrimp, poached fish and all sorts of vegetables. I even like it with French fries!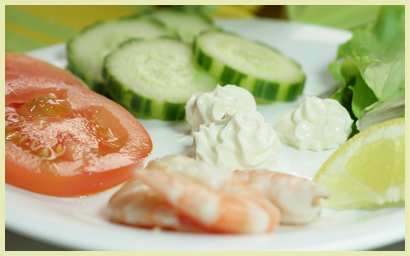 In many small towns in the south of France you will find a yearly festival known as la fête du grand aïoli. Here the aioli is much more than a garlic mayonnaise, it is a party for the whole town and usually huge platters of boiled seasonal vegetables, fish, and hard-boiled eggs are served along with gallons of aioli. All the people gather to dance, play games and enjoy some delicious French provençal cooking.
Recipe Notes
Making Emulsions
Aioli is an emulsion. That means that instead of floating on top of the liquid, the oil is evenly distributed throughout the liquid. Getting it to go there and stay there can be tricky.
If you are new to making emulsions, be sure to review how to make an emulsion with this . . .
. . . Did you do your homework? Oh well, even if you didn't, I'll tell you the secret anyway. The key to success with emulsions, is to add the oil very slowly at the beginning. Very slowly means drop by drop for the first tablespoon.
Choosing Oil and Garlic
If you make this recipe the traditional way with just olive oil, it is going to have a strong olive oil taste. Makes sense doesn't it? Many people do not like a strong olive oil taste and you may be one of them. Substitute your favorite vegetable oil for part of the olive oil to calm down this aioli recipe. I like it 50 percent olive oil and 50 percent safflower oil myself.
The garlic in this is potent. Start with one clove and be sure to remove the germ in the center of the garlic, which can be difficult to digest. If you want even more garlicky taste, go for it. For a completely different taste, try roasting the garlic before adding it to this aioli recipe. Roasting completely mellows and sweetens the garlic. An electric garlic roaster is perfect for this job. You can also play around with this recipe by adding some pepper, mustard, chopped herbs, cayenne, or something else that strikes your fancy.
Opt Out
Finally I have the solution for all all of you who aren't up for the challenge of making your own aioli recipe (it really isn't hard folks, but you need to follow the directions), you can always buy aioli in a jar.
Garlic Mayonnaise

Sauce Aïoli
Preparation Time: 15 minutes
Makes 1 cup - maybe you should double the recipe, it is so good.
Ingredients
1 clove garlic (and certainly more if you wish)
2 pinches salt
2 egg yolks
1 tablespoon lemon juice
1/2 cup olive oil
1/2 cup vegetable oil (or other combination of oils. See recipe notes for recommendations on this)
Directions
Cut the ends off of the garlic, peel it, and either chop it or put it through a garlic press.
Put the garlic in a mortar and pestle with the salt and grind it into a paste.
In a heavy mixing bowl (one that won't scoot across the counter as you're mixing with one hand and pouring with the other), whisk (you can use an electric whisk) the egg yolks, lemon juice, and garlic mixture together until well combined, about one minute.
Start adding the olive oil, drop by drop, whisking all the while. You can add it a bit faster as you go along, but as with mayonnaise, the key to success is going very slowly at the start. When you are done adding the oil you can adjust the seasoning as suits your taste.
Return to French Sauce Recipes.
If you love garlic, this garlic soup recipe is for you. Traditionally made with Arleux garlic, you can use your favorite cloves and get great results. Tasty, nourishing, and an experience to be shared!