Madeleine Cookies
Recipe for French Tea Cakes
Madeleine cookies are small scallop shaped cakes popular at tea-time in France. They make popular snacks with kids and are often dipped in a hot drink. Below you'll find a madeleine recipe that is very quick to make and gives good results.
Shaping Madeleines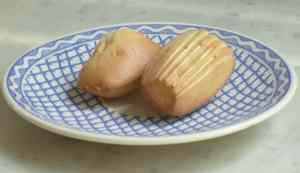 Although there are no shortage of commercial madeleine cookies in France, people do make their own.
All you need is a special madeleine pan to shape the cakes into scallop shell shapes.
Once you own your own Madeleine tin, you can use it to shape other cake recipes too. Or try it with savory breads - cornbread scallop shells would be lots of fun on any dinner table.
This Madeleine cookies recipe will make a nice treat to serve at a tea party or just to have something fun and French for a snack. And don't worry, they couldn't be easier to make!
Madeleines
Preparation time: 20 minutes
Baking time: 15 minutes
Makes 24 madeleines
Ingredients
3 eggs
3/4 cup sugar
1 teaspoon vanilla
1/3 cup milk
2 cups flour
1 teaspoon baking powder
6 tablespoons butter, melted and cooled
Directions
Beat the eggs with the sugar, vanilla and half of the milk until thick and light yellow. Add the flour and baking powder bit by bit and continue mixing until smooth. Stir in the rest of the milk and the melted butter.
Carefully grease your madeleine tray if necessary. Spoon about two tablespoons of batter into each mold. Bake for 15 minutes at 375°F. Cool on a rack.
You could flavor your madeleines with different things, perhaps orange or lemon zest. A dusting of powdered sugar would look nice as well.
Madeleine History
As with most popular French foods, there are several different stories about the origin of madeleine cookies. According to one version, Madeleine was a young maid working for a Marquise in the late 1700's when she baked shell shaped tea cakes for a certain Stanislas Leczinski, the deposed king of Poland.
In another version, it was a different Madeleine who offered her cakes to voyagers making the pilgrimage to Saint Jacques burial site. Whoever made the first madeleine recipe had a good idea at any rate. For it wasn't long before several different enterprises had taken up making and marketing these small cakes.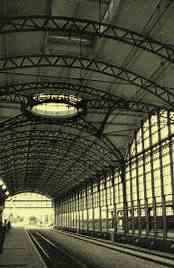 The town of Commercy in the Lorraine region of eastern France is renowned for it's madeleines. From the end of the 19th century up until WWII, voyagers on the train through Commercy were entertained by the site of female cake vendors carrying their wares in big baskets, each yelling louder than the next in an attempt to sell the maximum number of her employer's madeleines.
This way of selling merchandise was unique within France at the time, and the spectacle of the ladies at Commercy was probably looked forward to by bored travelers.
The madeleine was then immortalized by Marcel Proust in his autobiographical book, Á la recherche du temps perdu (Remembrance of Things Past), where a taste of the cake plunges the narrator back into his childhood. Since then, Proust's madeleine has become a metaphor in France for anything that creates a vivid memory.
Packaged Madeleines
Our grocery store in France sells a lot of madeleine cookies. In general, these are of excellent quality - truly you would be surprised that they are packaged. You can order your own madeleines and have them delivered by mail if you don't have time to make your own.
New!

Comments

Have your say about what you just read! Leave me a comment in the box below.