Moroccan Couscous Recipe
You may wonder what a Moroccan chicken couscous recipe is doing on a French food site. Moroccan food though is quite common in France and we can easily find all of the ingredients, including the extraordinarily popular merguez sausage, to make a "bon couscous".
Harissa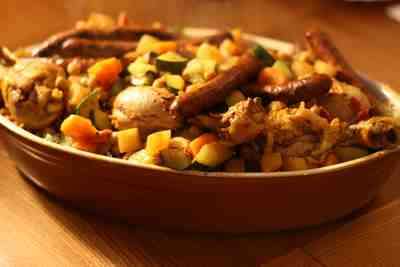 Even in small grocery stores in France you can almost always find Harissa Paste. This red paste often comes in a tube and is made from red chili peppers, spices, garlic and salt. You will frequently find it as an ingredient in Moroccan couscous recipes, as well as all sorts of North African dishes. It is a good condiment to keep in the refrigerator, especially if you like to add a bit of heat to your food.
Ras el hanout
Ras el hanout translates from Moroccan into "the head of the store". This spice mixture is supposed to be the best a merchant has to offer and what actually goes into it can vary considerably from product to product. The one I used for this recipe contains principally: mustard, coriander, turmeric, and cloves. Ras el hanout is a good spice blend to have on hand in your kitchen. You can add it to any dish that you want to spice up a bit and is called for in all sorts of North African tagines, as well as the classic almond chicken pie known as B'Stilla. It also makes a good rub for meats before grilling.
Merguez Sausage
Merguez Sausage are one North African specialty that the French have adopted with passion. You won't go to too many French barbecues without seeing a few merguez on the grill, and a summer without a merguez is really not a French summer at all. These spicy sausages are made from lamb and beef - no pork. The Moroccan couscous recipe below calls for merguez and it would be great if you could find some, but not to worry, you can always substitute your favorite spicy sausage and get basically the same effect.