Chicken Kiev Recipe
Baked or Fried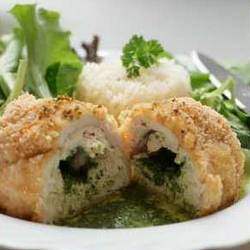 This chicken Kiev recipe is a big hit in our family. Who is not going to like poultry stuffed with herb butter and deep fat fried? And if you're not into deep frying, not to worry, it works perfectly fine in the oven as well.
For a similar and just as popular (and easy) dish, see this chicken cordon bleu recipe.
Chicken Kiev Recipe - Two Ways
I have a genetic thing against deep fat frying, but I went ahead and tested this chicken Kiev recipe using this method and it came out just great. My family was smacking their lips and begging for more. However, given my disposition, I tried it in the oven as well, and while there was a little less smacking and longing glances in the direction of the kitchen, it was quite delicious.
Of course the traditional chicken Kiev recipe calls for deep fat frying. If you decide to use this method, you may like to check out these deep frying tips before you proceed.
You may be concerned, like I was, that the filling is going to leak out of the roll as it fries. Not to worry. The flour, eggs, and bread crumbs form a good seal on the whole thing and nothing leaks. Do follow the directions though and allow the breaded rolls to chill in the refrigerator for a while before frying.
Herb Butter
In the freezer section of the grocery store here in France, we can buy a roll of butter that has been mixed with herbs and garlic. It is great stuff to have on hand for frying steaks, topping vegetables or rice, or even as a spread for breads. If you can find a similar product, it should work fine in this chicken Kiev recipe.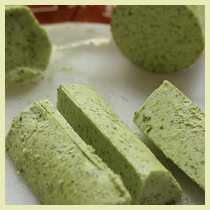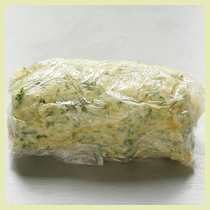 If you make your own, which is absolutely delicious, you may like to make extra to have on hand for other uses. It should be fine for at least a week if kept in plastic wrap in the refrigerator.
Poulet à la Kiev
Prep time: 30 min
Cook time: 20 min
Makes 4 servings.
Ingredients
For the herb butter:
8 tablespoons butter, softened
2 cloves garlic, finely minced
2 tablespoons finely chopped parsley
2 tablespoons finely chopped tarragon
2 tablespoons finely chopped chives
1/4 teaspoon pepper
juice of 1/2 lemon
For the poultry:
4 boneless, skinless chicken breasts
1/3 cup all purpose flour
1 egg, beaten
1 cup fine bread crumbs (you may need more)
Canola oil for frying
Directions
Begin by preparing the herb butter. Mix all of the ingredients together in a small mixing bowl until thoroughly combined. Some of the lemon juice may remain separate. Mound the mixture on a piece of plastic wrap and mold into a log. Cover completely in plastic wrap and refrigerate until hard.
Meanwhile flatten the breasts by wrapping them in plastic wrap and hammering them with a meat hammer or a rolling pin until they are about 1/3 inch thick. Don't mangle them - just get them on the slender side.
Prepare three shallow bowls for dipping: one with flour, one with the beaten egg, and one with the bread crumbs.
Remove the hardened filling from the refrigerator and slice into eight equal portions (each piece should be a little less long than the breast is wide). Place a piece of butter towards one end of each breast and then roll the meat up tightly round the filling. Tuck in the edges and any stray bits as you roll. Press firmly together.
Dredge each roll thoroughly in flour, then egg, and finally in bread crumbs. Be sure everything is well coated. Place the rolls on a plate and refrigerate for 1/2 hour before frying.
When you are ready to fry, add oil to a depth of about 1 inch to a sturdy deep pan. Heat the oil to 375°F. Carefully add the rolls one at a time. Fry for about 15 minutes (exact cooking time will depend on the size of your rolls) turning as needed with metal cooking tongs to completely brown the rolls on all sides and cook throughout.
Drain rolls on absorbent paper and serve immediately. Watch out when you cut into these as the filling is likely to squirt out.
Baked Chicken Kiev Recipe
Follow the same method for preparing the herb butter and breasts as above. Instead of deep fat frying, lightly oil a baking dish and place the breaded rolls in this. Dot the rolls with additional butter and bake at 375°F for about 30 minutes or until the juices run clear and the chicken is cooked through.
Chicken Kiev History
As with many dishes, there is some debate over where this chicken Kiev recipe originated. Since this is a site about French food I will give you la version française.
According to French history, this dish was invented by the the Frenchman Nicolas Appert (1749-1841), a masterful food manufacturer, who is also, and perhaps much more significantly, credited with developing the technique for canning foods.
He called his dish les côtelettes de volaille and it was also known as Chicken Supreme. The name chicken Kiev didn't appear until New York restaurants wanting to woo a Russian clientele began using it to designate this stuffed poultry dish.
New!

Comments

Have your say about what you just read! Leave me a comment in the box below.