Breaded Chicken Recipe
Easy Paprika Fried Strips
Here is a quick and easy breaded chicken recipe that uses lots of tasty paprika. You can serve these strips with slices of lemon and a dollop of eggplant caviar for a terrific combination of flavors. You should be able to find eggplant caviar in the gourmet food section of your grocery store, but it's also something you can easily make at home.
Recipe Notes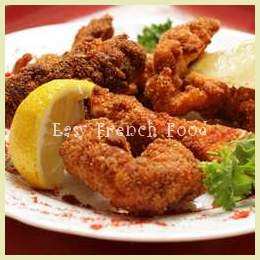 Paprika: When you make this recipe please be sure to use a high quality paprika as the flavor really comes through and you want something good. In keeping with the French theme of this website, I used a mild paprika, but nothing is to stop you from mixing in a little of one of the more firey paprikas.
Deep Fat Frying: This was another venture into deep fat frying - something that I am usually hesitant about. I was really pleased with the results of using my cast iron Staub Cookware cocotte. It's deep enough so the oil is very well contained and clean up was a snap. I think it even did my Dutch oven some good.
Bread Crumbs: Fine bread crumbs are called chapelure here in France. It is sold in the grocery store in the baking section and is a real convenience and one that amazingly contains no extra garbage. If you're looking for quality bread crumbs and don't want to make your own, you may like to try Panko bread flakes. Not limited to Japanese cooking, Panko is an excellent ingredient for coating fried foods as in this breaded chicken recipe.
Serving Suggestion: This breaded chicken recipe is at its best when served with lemon wedges for squeezing on a hint of citrus and some eggplant caviar. This lovely tasting condiment from Provence Provence is typically made with lots of garlic, tomatoes, and olive oil: Eggplant Caviar Recipe.
Poulet frit au paprika
Preparation Time: 40 minutes
Makes 4 servings.
Ingredients
4 skinless, boneless chicken breasts
salt and pepper
1 egg
fine bread crumbs (about 1 cup)
2 tablespoons paprika
flour (about 1/4 cup)
oil for frying
Directions
Cut the chicken into 1/2 inch strips, and sprinkle lightly with salt and pepper.
In a small bowl, beat the egg. In another bowl mix the bread crumbs with the paprika. Place the flour on a plate.
Pour the oil into a sturdy and deep frying pan to a depth of about 1/3 inch. Heat to 375° F. As the oil is heating, prepare the chicken by rolling first in the flour and shaking off any excess, then dipping it in the egg and finally coating well with the bread crumbs.
Carefully drop the chicken in the hot oil and cook for about 5 minutes, turning once. They should be browned and cooked through. Remove to a plate covered with paper towel to absorb the excess oil.
Serve hot with lemon wedges and eggplant caviar.
New!

Comments

Have your say about what you just read! Leave me a comment in the box below.