Moroccan Chicken Recipe
OK, maybe you're right, I'm stretching things a bit to include this Moroccan chicken recipe on a French food site. However, it is so yummy and unexpected, that I just had to share it with you. If you're thinking of trying a tagine recipe, this Moroccan stew is a great one to begin with.
Tagine Cooking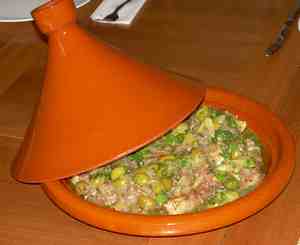 A tagine is a heavy, earthenware cooking vessel with a round base and conical lid. It is slow to heat and slow to cool down. It's shape and material lends itself to moist, succulent dishes. Tagine also refers to the dishes that are cooked in this vessel.
The tagine is a very old method of cooking. Modern takes on the tagine inlcude an electric one. I can't imagine that an electric tagine could give you the results that a true earthenware one does. Also, cooking with a real tagine is a pleasure. Something about the simplicity and heaviness of its material is ever so appealing.
Tagine Tips
These tips are intended for use with a traditional high-quality, earthenware tagine. You should, of course, follow any instructions that come with your particular tagine. Be aware that many low-cost tagines are sold only as serving dishes.
You can use your tagine to cook on the stove top, but you should use a special metal heat diffuser between the dish and the heat source.
A quality tagine goes in the oven - no problem.
A tagine gets very hot and is slow to cool down, so be very careful.
You'll certainly want to serve your recipe in the tagine because it makes such an unusual and attractive presentation.
You don't need a tagine to cook this Moroccan chicken recipe. You can use any heavy, covered baking dish, such as a Dutch oven.
Tajine de poulet aux olives et citrons confits
A Moroccan Chicken Recipe
Depending on your tagine, you could use it to cook the first part of this Moroccan chicken recipe. However, I use a heavy skillet and then transfer the ingredients to the tagine before putting it in the oven.
Preparation Time: 20 minutes
Baking time: 1 hour
Makes 6 servings.
Ingredients
1 chicken cut up, or 6 to 8 pieces of chicken, skinned
salt and pepper
2 onions, chopped
3 tablespoons olive oil
2 cloves garlic, crushed
1 tablespoon chopped ginger
1 teaspoon cinnamon
1 teaspoon cumin
2 cups chicken stock or bouillon
1/4 cup chopped cilantro
1/4 cup chopped parsley
1 cup green or purple olives
2 preserved lemons
Directions
Season the raw chicken with a sprinkle of salt and pepper. Cook the onions in the olive oil on medium heat for 5 minutes. Sprinkle on the garlic, ginger, cinnamon and cumin. Cook, stirring, for 2 more minutes.
Pour in the stock and scrape the bottom of the pan to incorporate the onion and spices. Add the chicken and bring to a boil. Cover and let simmer on low to medium heat for 35 to 40 minutes, or until the chicken is done as you like it.
Remove the chicken from the pan and place it in the tagine. Reduce the sauce by boiling it on high heat for 5 to 10 minutes.
Cut the preserved lemon in 1/4 inch pieces, removing the seeds. Mix the cilantro, parsley, olives and lemons into the sauce and than pour it onto the chicken.
Cover the tagine with its lid and place in a hot oven (450°) for 10 minutes.
Serve over rice or couscous.