Almond Chicken Recipe
This easy almond chicken recipe features pan fried boneless breasts topped with a tangy honey sauce and lots of crunchy toasted almonds. This is the perfect recipe to make for nights when you are pressed for time but still want to try something a little different. The ground almond coating ensures that the breast meat will stay tender and moist and the quick sauce adds a lot of interest.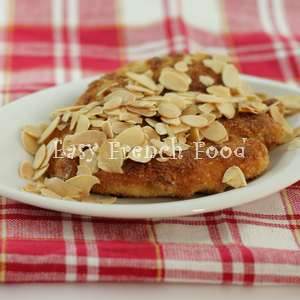 The honey vinegar sauce that gets made at the last minute in this almond chicken recipe is not meant to be a huge feature in the presentation. The small amount of sauce is just enough to give a little punch of yumminess. If you serve the chicken breasts on top of a bed of rice, the rice will be pleasantly infused with the taste of the sauce as well.
Recipe Notes
Be careful not to fry the almond chicken recipe at too high of a temperature as the ground almonds can burn fairly easily. If you flatten the chicken breasts before starting, they well cook quickly, which will help to keep the nut coating from burning.
Ground Almonds
Sometimes referred to as almond meal. finely ground almonds are a very popular ingredient in French cooking. Often they will be paired with sugar to make some fabulously moist and flavorful dessert, like this almond cake recipe.
Adding them to savory recipes also works well, especially when they are used as a topping or as a coating like in the almond chicken recipe here. If you can't find almond meal for some reason, you can always make your own. Here are some good direcitons about how to make almond meal in a coffee grinder.