Staub Cookware
Offer yourself a piece of Staub cookware and you will find yourself looking forward to the moment you can put it to use. Making beef bourguignon, braised red cabbage, or any of your favorite dishes in a Staub cocotte is a pleasure - you're guaranteed good results.
Tooted by many top chefs as their favorite French cookware, Staub has taken the world by storm. The company is a relative newcomer to the French cookware market, and in just a short time they have earned a reputation for producing some of the best cookware available.
Staub is a family owned business that originated in Alsace, where Francis Staub designed his first cocotte in 1974. The company has gone on to develop a vast line of quality enamelled cast iron cookware.
This is cookware that is built to last. If you buy a piece of Staub cookware and take care of it properly, you can expect to own it for a lifetime.
Cooking with enamelled cast iron is a joy.
Iron heats very evenly - food is cooked from the sides and top not just the bottom. Iron also retains heat for a long time, so your meal will stay warm as you linger over your perfectly cooked dinner.
Here are a few ideas of what you might like to try for your first piece of quality cast iron cooking equipment. My recommendation is to buy the item that sings to your heart and discover the pleasure of Staub quality yourself.
La Cocotte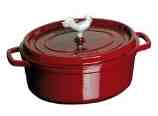 This is the classic Staub Dutch oven - a piece of cookware you will use over and over again. It comes in a wide variety of shapes and sizes - each made with the same attention to quality that is the hallmark of Staub design. Here's just a sample to give you some ideas of what is available.
Specialized Cookware
Staub didn't stop with the cocotte. The company has gone on to design a wide variety of specialized cast iron cookware, including fondue sets, cast iron woks, crepe pans, tagines and paella pans.
The Staub Teapot
Staub makes these fabulous teapots in a variety of colors so you can find just the perfect one for your kitchen decor. Made of cast iron (of course!), these pots keep your tea hot for a long time. You can also use these to brew other hot drinks such as traditional French hot chocolate or mulled wine (you can place the spices for this in the tea ball that comes with the pot). Get a Staub teapot and offer yourself a lifetime of brewing pleasure.
Care and Use of Cast Iron Cookware
Your Staub cookware should come with a notice that thoroughly explains its care and use, but in the meantime consider the following points:
As with all cast iron, you will need to season your cookware before you use it the first time. This is due to the fact that the iron is quite porous. By saturating it with oil, you create a protective surface for the iron which will keep it from rusting.
You should wash and dry your iron cookware immediately after use. Don't leave it soaking in water or even damp, as this will eventually cause it to rust.
Because some foods are acidic, such as tomato sauce, they may attack the surface of the iron, so perhaps it is best not to cook these in your valuable piece of Staub.
Personal note:
I love my Staub cocotte that my husband gave me for Valentine's Day. So far I only have one piece of Staub to my name, but it is such a quality piece of cooking equipment that I will happily scrimp and save to expand my collection.
If you like to cook, you owe it to yourself to own at least one piece of Staub cookware. It is truly a pleasure to use, and the price is very reasonable, when you consider you will own it a lifetime.