Beef Bourguignon Recipe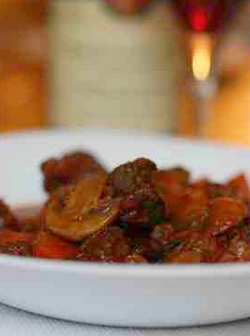 Everytime I made this easy beef Bourguignon recipe while living in Paris my neighbor would want to know what was making the whole apartment building smell so good. Like most stews, it is a great dish to make in the afternoon and leave simmering until dinnertime, enticing everyone to the table.
(You may have also heard this dish called beef Burgundy. The Bourgogne region of France is sometimes referred to as Burgundy by English speakers. I think this may be because we have problems getting our mouths around that gogne sound.)
Recipe Notes
Beef and Wine
I usually make this beef Bourguignon recipe with a cheaper bottle of Bourgogne and serve it with a more expensive one, but you can make it with any low-tanin red wine you think would be nice. Most cooks advise using good wine to cook with, mais il ne faut pas exagérer.
Beurre Manié
Lots of times you will find sauces thickened in France with something called a beurre manié, made by mixing softened butter with an equal amount of flour and a bit of cooking liquid. The beurre manié is added to the dish a few minutes before serving. I have left it as an optional step in this recipe. If you can afford the extra calories, go ahead with this addition, but you will get a very tasty and satisfying stew even if you leave it out.
Serving Suggestion
This is a very satisfying beef Bourguignon recipe and best served with something simple, perhaps steamed potatos or noodles. A mixed green salad would be good for an entree and something light for dessert (in season fruit is always a good healthy choice). You'll be pleased to find out that this beef Bourguignon recipe is even better tasting when served as leftovers the next day.