French Bread Pan
A French bread pan is a special perforated baking pan that helps your baguettes keep their shape and brown evenly.
Baguette Pans
Whether your looking for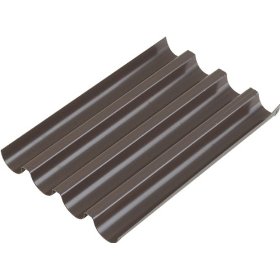 Bourgeat Cookware
Chicago Metallic Bakeware
A dual loaf baguette mold
Or another special brand
You'll be sure to find it on Amazon.com.
And to complete your French bread experience, be sure to have a look at the Provencal baguette baskets category - perfect for adding a touch of France to your table.
Other French Bread Resources . . .
Here are a few tips for making French bread at home.
And while visiting Easy French Food, please be sure to have a look at some of the customs surrounding bread in France. Here in the Hexagon, is an important part of everyone's day, and nary a meal goes by without a baguette on the table. Learn more about French breads.
Return from French bread pan to French cookware.