Easy Chicken Stew Recipe
Crockpot Chicken Provencal
This crockpot chicken stew recipe takes just minutes to prepare in the morning (only a few vegetables to prep) and the results are a delicious and satisfying supper waiting for you at the end of the day. Put a loaf of crusty bread on the table alongside your chicken Provencal and you will be eating just like they do in the south of France.
Provencal Recipes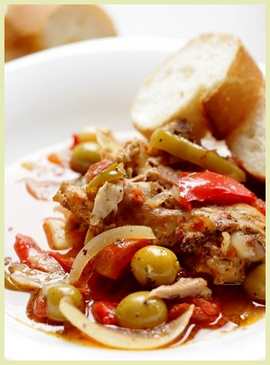 Provence refers to the southern part of France around the Mediterranean. Reputed for its fabulously sunny climate, it is a popular summer destination for tourists, French and otherwise.
The sunshine of Provence also feeds an abundance of vegetables and fruits, while the Mediterranean sea provides a stunning variety of seafood. Provencal cooking centers on the foods that are readily available in the region, such as tomatoes, eggplant, garlic, fish, wine, and of course olive oil.
You'll find many recipes that tack on the term Provencal at the end, including the chicken Provencal recipe given here. In general, there really is no one dish that makes a traditional Provencal recipe, rather the term usually indicates that ingredients from this region have been included in the recipe.
Crockpot Chicken Recipes
Cooking chicken in a crockpot virtually ensures that it will come out moist and flavorful. In the crockpot chicken stew recipe given here, the meat falls off the bone and you might like to remove these before serving. Try this stew on top of rice and be sure to include a loaf of French bread at the table to soak up the great tasting sauce.
For a different taste, try this crockpot lemon chicken recipe -- a tart and delicious dinner that also includes the unusual flavor of tarragon, a popular herb in French cooking.
Poulet Provençal
Preparation time: 20 min
Cooking time: 8 hours
Makes 4 to 6 servings
Ingredients
8 pieces skinned chicken
4 cloves garlic, peeled and sliced thinly
2 bell peppers (you pick the colors), sliced in two inch lengths
2 onions, sliced
1 cup pitted green olives
1 can diced tomatoes (15 ounces)
1/2 cup white wine (red will work too)
1/4 cup olive oil
2 tablespoons herbs de Provence
salt and pepper
Directions
Very lightly coat the bottom and sides of a crockpot with olive oil.
Sprinkle the chicken pieces with salt and pepper and place them in the bottom of the crockpot.
On top of the chicken, distribute the garlic, then the peppers, onions, and olives.
On top of this pour on the tomatoes, wine, and olive oil.
Finally sprinkle on top the herbs and salt and pepper (about 1/2 teaspoon each). Cover and cook on low for 8 hours.
Variations on Chicken Stew Recipe
Potatoes: To make serving supper even quicker, place 4 or 5 peeled and chunked potatoes in the bottom of the crockpot before you add the chicken. This will give you everything you need for a complete meal in one pot.
Fennel: Include sliced fennel along with the bell peppers and onions to add a mildly sweet taste. You could also toss in a couple pieces of orange peel with the fennel for more Provencal flavor.
Stove top method: This recipe can also be cooked in several hours on low heat. Be sure to use a sturdy pot (not cast iron though as the acid of the tomatoes could harm this), and stir occasionally to distribute the heat.
More French Chicken Recipes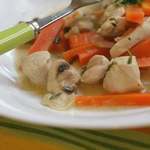 Chicken Fricassee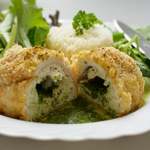 Chicken Kiev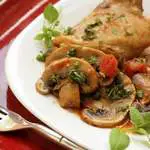 Chicken Marengo
New!

Comments

Have your say about what you just read! Leave me a comment in the box below.