French Lamb Stew Recipe
French Navarin
This easy lamb stew recipe is called Navarin here in France. Some people claim that this dish is named in commemoration of the French naval victory at Navarin (in Greece) in the early 1800's. However, it is just as likely and logical that it is a twisting of the word navet, or turnip, a star ingredient in this stew.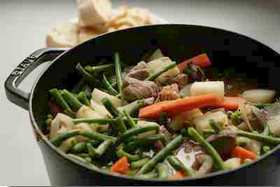 Navarin is perhaps a bit different from other stew recipes which tend to cook for long times in order to tenderize the meat. Unfortunately that can mean cooking the vegetables for a long time as well, and not everyone likes pale, mushy carrots, do they? I know my son doesn't.
Here you add the vegetables later in the cooking process. Result: happy carrot eaters!
The Key Ingredient
The one ingredient you don't want to exclude here (along with the lamb of course) is the sugar. It's just a small amount of sugar, but it is a key flavor enhancer in this lamb stew recipe. Those turnips and carrots just love it.