French Lamb Stew Recipe
French Navarin
This easy lamb stew recipe is called Navarin here in France. Some people claim that this dish is named in commemoration of the French naval victory at Navarin (in Greece) in the early 1800's. However, it is just as likely and logical that it is a twisting of the word navet, or turnip, a star ingredient in this stew.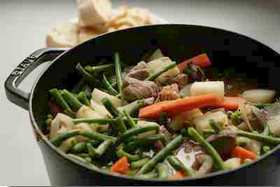 Navarin is perhaps a bit different from other stew recipes which tend to cook for long times in order to tenderize the meat. Unfortunately that can mean cooking the vegetables for a long time as well, and not everyone likes pale, mushy carrots, do they? I know my son doesn't.
Here you add the vegetables later in the cooking process. Result: happy carrot eaters!
The Key Ingredient
The one ingredient you don't want to exclude here (along with the lamb of course) is the sugar. It's just a small amount of sugar, but it is a key flavor enhancer in this lamb stew recipe. Those turnips and carrots just love it.
Lamb Stew Recipe

Navarin
Preparation time: 30 minutes
Cooking time: 1 hour 30 minutes
Makes 6 servings
Ingredients
2 pounds boneless lamb shoulder
2 tablespoons cooking oil
1 tablespoon sugar
1 tablespoon flour
1 cup dry white wine
2 tomatoes, diced (or use canned)
2 garlic cloves, peeled and crushed

bouquet garni

(substitute 1 teaspoon mixed dried herbs)
1/4 teaspoon nutmeg
salt and pepper
2 tablespoons butter
4 medium carrots, scraped and cut into three inch pieces
3 medium turnips, peeled and cubed in 1/2 inch pieces
1 onion, peeled and cut in eighths to make slivers
1 1/2 cups peas (frozen are fine)
8 ounces green beans, cleaned and cut in 3 inch pieces
Directions
Cut the lamb into two inch or so chunks. In a large sturdy pot, heat the cooking oil on medium heat. Add the pieces of lamb and brown them on all sides, turning as needed. Remove the lamb from the pot and drain off all but one tablespoon of the cooking liquid (if your lamb is fairly free of fat to begin with, this step may be unnecessary).
Return the lamb to the pot on medium heat. Sprinkle with 1 tablespoon of sugar and stir to coat. Sprinkle with 1 tablespoon of flour and stir again. Cook, stirring, for three minutes.
Pour on the wine and add the diced tomatoes, the crushed garlic, the bouquet garni and the nutmeg. Season to taste with salt and pepper. Complete the pot with just enough water to barely cover the lamb and bring to a low boil. Cover the pot and put on low heat to simmer for one hour.
Meanwhile, prepare the vegetables. Peel and slice the carrots, turnips, and onion. Melt the butter in a large skillet on medium heat and add these vegetables. Cook, stirring occasionally for 10 minutes, then remove from heat. You want the vegetables to become slightly tender, not brown.
Steam the green beans until just tender (the microwave works fine for this). Rinse with cold water and set aside to be added at the end.
After the lamb has simmered for one hour, stir in the cooked vegetables and peas (if they are still frozen, that's fine). Simmer for another 15 to 20 minutes, perhaps with the lid off if you want to reduce the cooking liquid a bit. The vegetables should be just tender not overcooked and tired looking, so don't leave it too long on the heat at this point. Stir in the green beans and heat for five more minutes.
Serve hot.
The Vegetables
Ideally this lamb stew recipe is made with spring vegetables which usually appear on the market in France in late March. If it is spring, you may be able to find baby carrots, new turnips, and spring onions. If you can, by all means, use them in this recipe. Since they are small, you'll just need to clean them and slice them minimally, if at all.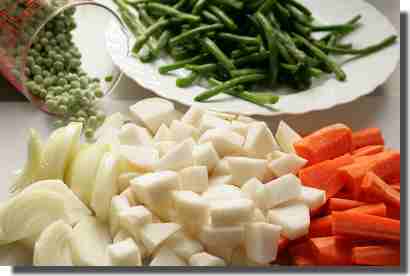 Don't despair though if it isn't spring, because this lamb stew recipe is fabulous with older vegetables as well. The key to a great Navarin is to keep it fresh. Unlike some lamb stews, the vegetables should be cooked minimally and added towards the end. Feel free to play around with the quantity and types of vegetables as well.
The vegetables I include here are for more or less the classic Navarin, but do explore if you wish. By the way, if you are hesitating about those turnips, don't! They are truly fabulous in this lamb stew recipe. The turnip finds its higher purpose in a good Navarin.
New!

Comments

Have your say about what you just read! Leave me a comment in the box below.