French Duck Recipe
Eddy's Canard - Braised in Beer
This divine duck recipe features duck legs slowly cooked in beer and flavored with dried apricots and thyme. The result is a succulently rich dish with just the right amount of sauce for serving on top of rice.
Belgian Beer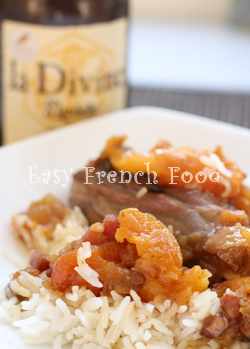 This recipe was given to me by my son's professeur de guitare, who comes from the north of France, near the Belgian border. Actually what he gave me was a list of ingredients, which I think is a fairly typical way for recipes to be passed around in France. Included with the list of ingredients was a tasty introduction to beer from Belgium and Northern France.
Belgium (and the north of France) produces some of the best beer in the world and it is no wonder that it finds its way into popular dishes. For example, a well known beef and beer stew from France is Carbonnade Flammande.
For my first try at this duck recipe, I followed the professor's ingredient list and used Duvel, a fairly boisterous Belgian golden ale. The next time I used la Divine, a much calmer yet very tasty indeed French ale. I much preferred the recipe with La Divine - no bitter taste.
If you can't find this particular beer where you live, you will just have to experiment. Look for a strong beer (la Divine is at 8.5 percent alcohol) with a lot of enjoyable taste. Just like cooking with wine, you should always use something you like to drink on its own.
Serving Suggestion
This duck recipe comes with a great sauce so be sure to serve it on top of either rice or potatoes, or at least with a good loaf of French bread. We like it on top of rice with a side of steamed cauliflower.
Le canard braisé d'après Eddy
Preparation time: 40 minutes-
Cook time: 90 minutes to 2 hours
Makes 6 servings
Ingredients
4 duck "legs" (drum and thigh) - about 2 1/2 pounds
3 onions
2 tablespoon olive oil, divided
1 tablespoon butter
4 ounces

lardons

, or lean bacon
2 cloves garlic
1 bottle golden ale
20 or so dried apricots - about 7 ounces
1 sprig thyme or 1 teaspoon dried
Directions
Prepare the duck by slicing the legs into drum and thigh pieces (8 pieces total). Slice off any loose pieces of skin as well. Sprinkle with salt and pepper.
Peel and slice the onions.
Heat 1 tablespoon of olive oil and the butter in a Dutch oven on medium low heat. Add onions and cook for 15 minutes, stirring occasionally. The onions should caramelize somewhat.
Slice the bacon in 1/4 inch by 1 inch strips. Add the bacon to the onions and cook 8 more minutes, stirring occasionally.
Peel and crush the garlic, adding it to the bacon and onions. Cook for 1 more minute.
Remove the ingredients from the Dutch oven and add in 1 more tablespoon olive oil.
Add the duck pieces and brown on all sides - about five minutes. Turn off heat.
Add onions and bacon back into the Dutch oven. Pour on beer, add apricots and thyme and stir everything to mix.
Put a lid on the Dutch oven and bake at 340°F (170°C) for 1 1/2 to 2 hours, or until it is as tender as you like it. You can stir the duck half way through the cooking time.
Serve hot over rice.
New!

Comments

Have your say about what you just read! Leave me a comment in the box below.