French Stew -
Potée Champenoise
Potée is a French stew that you will find served up in various ways. Each region has its own version of potée although all contain a variety of vegetables, a little broth, and various meats. Here's a look at some of the variations, and one easy vegetable stew recipe, called Potée Champenoise. The term Champenoise indicates that it comes from the Champagne region of France.
Vegetable Stew Recipe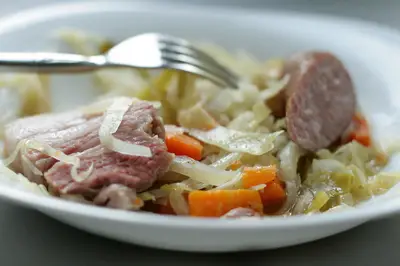 This French stew makes for simple, hearty eating. Be sure to start preparing it plenty of time in advance, because it calls for slow cooking, although I have seen some potée recipes made in a pressure cooker. (It is interesting to note that pressure cookers, or cocottes minutes, are very popular in France).
You can use whatever vegetables and meat you have on hand - just get everything in a pot with a little water, put it on to simmer and wait a couple of hours. It's really as simple as that. If you are looking for a different sort of stew, have a look at this classic beef Bourguignon recipe.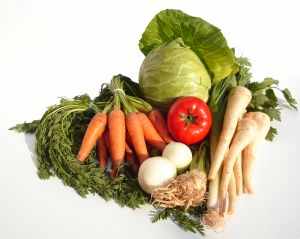 You can imagine that this was originally peasant food because it could be adapted to whatever was on hand. If carrots were plentiful, into the pot they went. If potatoes were scare, turnips could be used. Slow simmering is also a good way to make sure every bit of meat came cleanly off of the bones.
Nearly every region in France boosts its own version of potée, but many are quite similar, and people are not always in agreement as to what distinguishes the potée of a particular region.
Techniques for eating this French stew can vary some as well. In some cases, the meat and vegetables are separated from the cooking liquid, which is served as a first course. In other cases, notably with Garbure, the stew receives a bread and cheese topping and is then baked in the oven until golden on top. Sometimes wine is poured into the soup bowl and the stew served on top of that.