French Stew -
Potée Champenoise
Potée is a French stew that you will find served up in various ways. Each region has its own version of potée although all contain a variety of vegetables, a little broth, and various meats. Here's a look at some of the variations, and one easy vegetable stew recipe, called Potée Champenoise. The term Champenoise indicates that it comes from the Champagne region of France.
Vegetable Stew Recipe
This French stew makes for simple, hearty eating. Be sure to start preparing it plenty of time in advance, because it calls for slow cooking, although I have seen some potée recipes made in a pressure cooker. (It is interesting to note that pressure cookers, or cocottes minutes, are very popular in France).
You can use whatever vegetables and meat you have on hand - just get everything in a pot with a little water, put it on to simmer and wait a couple of hours. It's really as simple as that. If you are looking for a different sort of stew, have a look at this classic beef Bourguignon recipe.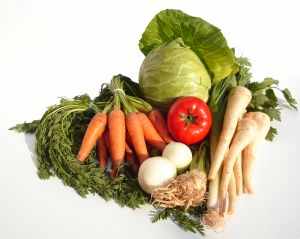 You can imagine that this was originally peasant food because it could be adapted to whatever was on hand. If carrots were plentiful, into the pot they went. If potatoes were scare, turnips could be used. Slow simmering is also a good way to make sure every bit of meat came cleanly off of the bones.
Nearly every region in France boosts its own version of potée, but many are quite similar, and people are not always in agreement as to what distinguishes the potée of a particular region.
Techniques for eating this French stew can vary some as well. In some cases, the meat and vegetables are separated from the cooking liquid, which is served as a first course. In other cases, notably with Garbure, the stew receives a bread and cheese topping and is then baked in the oven until golden on top. Sometimes wine is poured into the soup bowl and the stew served on top of that.
Potée Champenoise
Preparation Time: 30 minutes
Cooking Time: 3 hours
Makes 6 servings
Ingredients
1 pound lean salt pork or 1 pound ham hock
1 tablespoon olive oil
1 onion, chopped
8 ounces bacon, sliced in small pieces
4 large carrots, scraped and sliced
4 turnips, peeled and cubed
bouquet garni
1 cabbage, thinly sliced
4 large potatoes, scrubbed and cubed
1 pound sausages (Toulouse sausage work well, but you could try others)
1 teaspoon black ground pepper
Directions
Blanche the salt pork to remove the salt by soaking in cold water for two hours and changing the water several times.
In a large soup pot, heat the olive oil on medium heat and cook the onion for several minutes. Add the bacon and cook, stirring occasionally, for five minutes. Add 1 quart of water, then the desalinated salt pork (or ham hock), carrots, turnips, and the bouquet garni. Bring to a boil then turn heat down and let the stew simmer for 90 minutes. If the water gets very low, add a bit more, but you don't want to end up with a lot of liquid.
Meanwhile, cook the sausage according to package directions. The Toulouse sausage is boiled for about 20 minutes to cook it through. Boiling is a great method for cooking sausage that allows it to retain all of its juice.
After the stew has simmered for 90 minutes, add the cabbage, potatoes and sausage. Another cup of water may be added as well. Cover with a lid, but stir often. At first stirring may be difficult - more like rearranging things in the pot - but as the cabbage gradually shrinks, it becomes easier. You can then stir in the pepper.
Simmer another 90 minutes and serve hot. To serve I like to slice the sausage and pork into bite sized pieces and return them to the pot.
Special note on cooking cabbage: Some people find that cabbage gives them gas because of the sulfurous compounds that it contains. To control this effect, try blanching the cabbage in boiling water for 5 minutes then rinsing it well with cold water before adding it to the soup pot.
So French stews vary from region to region, but some ingredients appear frequently. Popular vegetables in a potée are:
Turnips
Potatoes
Carrots
Leeks
Celery Root
Onions
Cabbage
Beans
Tomatoes
Various cuts of pork dominate many versions of this French stew, but you'll find other meats as well:
Sausages (many regions boost their own special sort of sausage)
Salt pork
Ham hock
Pigs feet and tails
Bacon
Beef
Lamb
Other possible ingredients
Bouquet garni - This is a bundle of herbs (the exact contents can vary) tied with a piece of string. If you can't find a bouquet garni, you can make your own , or substitute whatever dried herbs you'd like.
Onion spiked with cloves, called an

oignon piqué

Pepper
Salt - Most times the meats add enough salt, so salt is rarely included.
Garlic
New!

Comments

Have your say about what you just read! Leave me a comment in the box below.