Beet Salad Recipe
This beet salad recipe includes bacon, cheese, and walnut oil for extra flavor and satisfaction. Serve it as a starter course or maybe even as a main course served with a whole grain baguette for a light meal.
Recipe Notes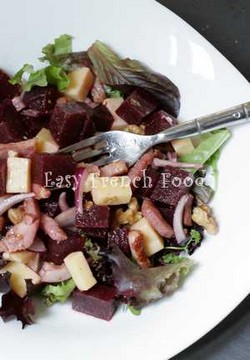 Beets. If you can find vacuum packed beets, you should give them a try in this beet salad recipe. A popular way to bring beets to the market here in France, they save you the hassle of preparing fresh beets, but sacrifice little in the way of flavor. Unopened, they can be stored in the refrigerator for many weeks and make a great addition to many easy salad recipes.
Comté Cheese. This is a great cheese to add to a raw vegetables. Its distinctive taste blends well with other ingredients. By adding cheese to your greens, you can move it into the category of a main dish, especially if you are looking for alternatives for lighter meals. Learn more about comté cheese.
Bacon. Lardons are small strips of bacon that are frequently used in French recipes. Nothing beats their convenience and many times they are fairly lean, making them a healthier choice than other cuts of bacon. If you can't find lardons, just look for a good lean bacon and slice it in strips.
Walnut Oil. This is a speciality of several regions in France. It can be added to so many things, when you just need an extra umph of flavor. Learn more about walnut oil.