Duck Confit
What is duck confit?
You may have seen duck confit, or confit de canard, available in a can and wondered what this specialty food from France was all about.
Confit is often a duck but it can be a goose, turkey or even pork. The meat is cooked in its own fat before being canned and preserved in it as well. When you open the can, you will see the meat covered in this fat. It may not look too appetizing at this point, but you are just minutes away from enjoying a delicious gourmet meal.
This fashion of preparing a duck is considered a specialty of the Gascony region in south-west France, reputed for its foie gras and Armagnac brandy as well.

Some tips for enjoying
confit de canard
Pierce the can of duck confit and place it in a pot of simmering water in order to melt the fat before removing the duck meat.
You can use the fat to cook something in, such as potatoes for a

Confit Sarlandais

.
You can heat your duck thighs in the oven or in a skillet.
The leg is the meatiest part and more tasty than the wing, but the wing is more tender and perhaps easier to eat because it has fewer bones. Usually you will find just legs that have been canned.
Make your own?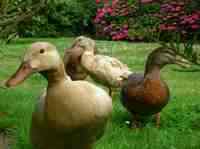 In France people will prepare a
confit de canard
at home. The poultry is cured for 24 hours with salt and perhaps some seasonings such as garlic, thyme, and nutmeg before being cooked very slowly covered in a lot of duck fat. After it has been prepared, you can eat it right away or store it safely in the refrigerator covered in its fat for one or two months.
I have never tried it, preferring the convenience of opening a can and having a delicious meal ready in a few minutes.
Serving Suggestions
Cassoulet

- This is a heavy stew made from large white beans and including a variety of rich meats depending upon the region and even the town in which the cassoulet is prepared. Confit of duck is sometimes included along with various sausages, ham, and lamb.
Confit Sarlandais

- This traditional fashion of serving the confit comes from Perigord, an area east of Bordeaux renowned for its hearty cuisine. The duck is served with sliced potatoes that have been sauteed in the the fat that was used to preserve the poultry. This makes a delicious and easy meal when served with a simple salad.
Salade Landais

- Here the duck is chopped up and served warm on top of a bed of greens, sometimes accompanied by preserved cep mushrooms and dressed with a walnut oil vinaigrette.
Try it with

this

celery root puree

or with this easy

glazed turnip recipe

.
Since confit is so rich and flavorful itself, these simply prepared vegetables make the perfect backround with which to serve it.
Keep in mind when enjoying confit that duck and goose are fatty meats, and when they are preserved in fat, they are even richer. A small portion should be plenty to satisfy and don't forget to balance your meal with a salad and light dessert.
Return to Gourmet Cooking Supplies.