Chambord Liqueur
French Raspberry Liqueur
Chambord liqueur is a brand name for a French raspberry liqueur that is carefully elaborated in a wonderful old chateau in the Loire Valley. It is an unabashedly luxurious drink that does not hesitate to play into its legendary royalist roots.
Liqueur Royale de France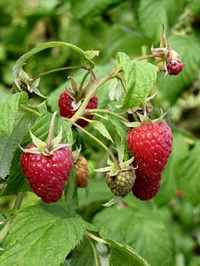 According to the legend promoted by the makers of Chambord liqueur, it was Louis XIV, who first called attention to the local raspberry liqueur when he was visiting the Château de Chambord. The marketers have taken this idea and run with it. For a long time, Chambord even had a crown affixed to the bottle top. These days the packaging is a bit more sober, but nonetheless is meant to recall the splendor of the king's court.
Whatever its packaging, this is an expensive liqueur, but one made with considerable care. Raspberries and blackberries are macerated in alcohol for several weeks to maximally extract their flavor and sugars. They are then blended with raspberry and black currant extracts, vanilla, honey, cognac, and aromatic herbs. Just as with French brandy, considerable care is given to blending the flavors just right. Yeah, don't you wish you had that job!
All of this is done on site at the lovely Château de la Sistière in Cour Cheverny, not far from the original Château de Chambord.
Chambord Cocktails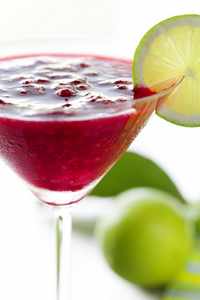 I like to enjoy just the smallest sip of high quality fruit liqueur as a dessert. However, the manufacturers like to promote the use of this liqueur in various cocktails, notably:
The Cham-cham. A small amount of Chambord in the bottom of a champagne flute topped with Champagne and a raspberry.


Café Royale. Equal amounts of raspberry liqueur,Irish cream, hazelnut liqueur, and orange liqueur are layered in a glass. This might look pretty, but it seems like a waste of a lot of good liqueur to me. What a mess!


French Martini. 1/2 ounce Chambord, 2 ounces vodka, and 2 1/2 ounces pineapple juice. This one is actually gaining in popularity and your favorite barman might even already know how to mix one.
Raspberry Liqueur Recipe Ideas
Chambord Castle
One could hardly enjoy Chambord liqueur without knowing just a little about its namesake. For centuries, the Loire Valley of France was a sort of playground for the monarchy and you will still find many magnificent chateaus that stand in testament to France's royalist history.
The Château de Chambord, which was built in the 16th century, is one of the most famous, and certainly one of the most visited. It is renowned for its renaissance architecture and most particularly for its double spiraling staircase, which allows people to descend and ascend at the same time without crossing paths. You may recognize the castle from the Disney movie Beauty and the Beast.
New!

Comments

Have your say about what you just read! Leave me a comment in the box below.