Champagne Bottle Sizes
Huitième, Magnum, Nebuchadnezzar
Champagne bottle sizes range from a tiny one containing just enough Champagne for one person to have one glass, all the way up to bottles that contain enough Champagne for an entire wedding party. Here you can learn the names for these different sized Champagne bottles and a little about the bottling of this fizzy drink.
Champagne Bottles
Champagne bottles are somewhat different from most wine bottles. They are specially designed to withstand the pressure from the carbon dioxide gas that the Champagne contains. This means thicker glass and sloping shoulders. Also, almost all Champagne bottles have a large indentation in the bottom (called a punt) that contributes to structural integrity.
Unlike many sparkling wines that are fermented in tanks, the second fermentation that gives Champagne its fizz is carried out in the bottles themselves. In many cases the Champagne goes through this second fermentation in magnum bottles and then is transferred to the larger bottles. There are connoisseurs, however, that can taste the damage that this transfer may cause, and in response, there are some Champagne houses that actually carry out the second fermentation in the larger bottles. For a price, bien sur.
Champagne Bottle Sizes
You might want to consider investing in one of the larger Champagne bottle sizes if you are planning a real shin dig. The larger ones each have a biblical name. History is not clear on who first started naming these bottles after biblical characters, but one can imagine that these names were chosen to evoke importance and even a certain extravagance.
On the other hand, maybe you are just wanting to share a glass with a friend or have a special celebration all by yourself. There are Champagne bottle sizes to suit every occasion. The smaller ones may be the answer if you have found a recipe that calls for Champagne.
| | | | |
| --- | --- | --- | --- |
| Huitième | 1/8 bottle | 9.4 cl | 1 small glass |
| Quart - This is also called a split by some. | 1/4 bottle | 18.75 cl | 2 small glasses |
| Demi-bouteille | 1/2 bottle | 37.5 cl | 3 glasses |
| Bouteille | 1 bottle | 75 cl | 6 glasses |
| Magnum - You can will imagine that this means big. | 2 bottles | 150 cl | 12 glasses |
| Jeroboam - King of Israel in 9th century BC. | 4 bottles | 3 liters | 24 glasses |
| Rehoboam - Son of Solomon and king of Israel in 10th century BC. | 6 bottles | 4.5 liters | 36 glasses |
| Methuselah - Named after the bilbical patriarch who lived 969 ans (without any Champagne!) | 8 bottles | 6 liters | 48 glasses |
| Salmanazar - Named after an Assyrian king that lived in the 9th century BC. | 12 bottles | 9 liters | 72 glasses |
| Balthazar - Named after a regent of Babylon, living in the 6th century BC. | 16 bottles | 12 liters | 96 glasses |
| Nebuchadnezzar - The king of Babylon who lived in the 6th century BC. | 20 bottles | 15 liters | 120 glasses |
And Bigger Still . . .
Bottles larger than the Nebuchadnezzar can be produced on special command. It's quite a challenge to create a large bottle that can contain the pressure of Champagne. This means that the bottles themselves become valuable (and collector's items) just like the bubbly they contain.
How to Pour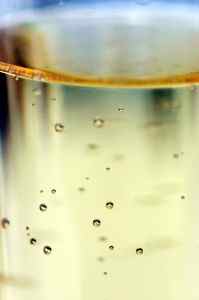 You may be wondering how to pour these larger bottles of Champagne. While a magnum is probably easily manipulated by most people, beyond that things could get tricky. Wine stewards might team up to pour a larger bottle, although they must be well coordinated to make this work.
Even if you have expert pourers though, you may need something else to pour a Nebuchadnezzar, which is 80 centimeters high and weighs in at more than 35 kilograms! A wine cradle that holds the bottle and allows one to swing it to pour a glass might be used for these.
Santé!
Go from Champagne bottle sizes to French Wine, Champagne, and Liqueurs.
Learn more about French Drinks.
New!

Comments

Have your say about what you just read! Leave me a comment in the box below.