Creme de Cassis

French Black Currant Liqueur
Many people are introduced to creme de cassis when they first try a kir cocktail, a mixture of black currant liqueur with dry white wine. This sweet French liqueur is not just alcoholic syrup, there is a lot of flavor and delicious taste in a quality cassis liqueur.
Black Currant Liqueur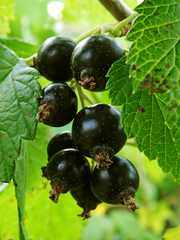 Taste. A high quality fruit liqueur will have lots of layers of flavor, much more than just a whack of sugar. Black currants should add acidic, berry and even floral notes to the liqueur.
Ingredients. Look at the ingredient list on your creme de cassis. It should read: currants, sugar, alcohol (baies de cassis, sucre, alcool) and maybe some water (eau). The rest is undesirable.
Alcohol Content. The alcohol content should be between 15 and 20 percent.
Shelf Life. An unopened bottle could last many years as long as it is stored in a cool dry place. Once opened you should finish fruit liqueur within a few months and store it in a cool location.

Dijon France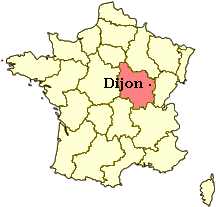 Creme de cassis was first marketed in 1841 under the mark Lejay-Lagoute, a brand that persists to this day. Auguste-Denis Lagoute was inspired by the ratafia de Neuilly, which was made from macerated fruits and was a popular Parisian drink at that time. To create a new fruit liqueur, Lagoute took the idea of ratafia and made it with black currants, which were growing at the end of the rows in the vineyards of Bourgogne near Dijon.
It was not until the 1940's though that the liqueur really took off. A certain Felix Kir, the flamboyant canon and mayor of Dijon, popularized the practice of pouring the local white wine Aligoté on top of a small amount of cassis. This drink, known as a Kir, is so loved by the French that it is now said to be the second most popular aperitif in France - I believe right after pastis.
These days cassis liqueur is made in other places in France, but the bulk is still made in the Dijon region.
Popular Brands
There are currently only a limited number of brands that are allowed to label themselves creme de cassis de Dijon, indicating that it is grown and bottled near Dijon: L'Héritier-Guyot, Gabriel Boudier, Lejay-Lagoute and Edmond Briottet.
After that you will find French brands labeled creme de cassis de Bourgogne. These include Joseph Cartron, Trenel, Joannet, and Vedrenne.
There are some others produced in other locations in France and around the world which are simply labeled cassis: Jacquiot in the Loire Valley, Hiram Walker, Bols, and DeKuyper.
Cocktails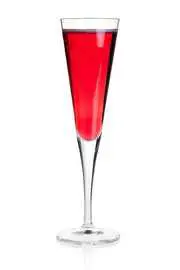 A small glass of cassis served as a dessert cordial is definitely worth trying, but its sweet fruity taste is the perfect addition to many drink recipes as well.
Gin- Combine equal parts black currant liqueur with gin to make a gin-cassis.

Kir- You can order this aperitif in most any French café or bar. It is simply a finger of liqueur topped with dry white wine.

Kir Royale- This fancy take off on the kir is made with champagne.

Red Wine- Added to a red Burgundy wine you get the French drink known as a communard.

Vodka- Combined with vodka and lime juice the liqueur becomes a ballet Russe (Russian ballet).
Other Recipes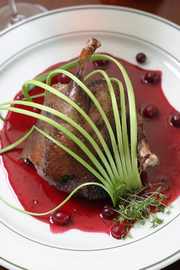 You can use a little creme de cassis in all sorts of dessert recipes, but it can also make a surprising and most welcome addition to some savory dishes.
Duck. Pan fried duck breasts are sublime when topped with sweet black currant sauce, made simply by adding a little water to the liqueur, heating and seasoning with salt and pepper.
Fruit Sauces. Currant marries very well with other berry flavors, as in this raspberry sauce recipe.
Homemade. It is totally possible to make your own fruit liqueurs - in fact, here in France, it is a popular pastime. Fresh clean fruit is macerated in alcohol for several months in the refrigerator. The resulting liquid is then combined with sugar syrup.
Ice Cream. Pour a small amount of creme de cassis onto a few scoops of vanilla ice cream for a fast and delicious dessert.
Jelly. Add creme de cassis to a black currant jelly recipe - about 1/4 cup for several pounds of fruit.
Sorbet. It can also be used in your favorite sorbet recipe. Adding several tablespoons or more will boost the flavor of black currant sorbet, but also other fruit sorbets.
Trifle. Stir the liqueur into mixed berries and layer with pieces of cake or lady fingers, whipped cream, and custard in a trifle dish.
Substitutes
If you aren't able to obtain creme de cassis and are looking for a recipe substitute, try another fruit liqueur: raspberry and blackberry liqueurs will have a similar flavor. For a great raspberry taste, try Chambord liqueur.
For a non-alcoholic substitute try black currant drink syrup or if you can't find that, even raspberry or blackberry syrup would be an acceptable substitute in some recipes.
New!

Comments

Have your say about what you just read! Leave me a comment in the box below.