French Comté Cheese
A Cooperative Effort
Comté cheese is a cooked, pressed cow's milk cheese produced mainly in the department of Franche-Comté in the east of France. It has the largest production of any AOC (Appellation d'Origine Controlée) cheese in France - more than 50000 tons of Comté are made each year.
The defining characteristic of Comté cheese is that it depends on a cooperative effort for its production. No single dairy, no single herd of cows, and no single species of plant, will be the source of the milk that goes into making this French cheese. The depth of flavor you experience when you bite into a piece of Comté is due to this diversity of sources.
To understand Comté cheese you'll need to go back about 500 years in history. Back then, people of this mountainous region were faced with the need to preserve food for the winter and the limitation of what they as individuals could produce. By pooling their resources (cow's milk), they could create large wheels of cheese that could be stored for many months and feed a lot of people.
Although these days individual dairy farmers could conceivably produce enough milk to justify making the cheese themselves, tradition persists and is indeed required by the AOC that protects Comté cheese. Each 40 kilo (about 88 pound) wheel of Comté is made from the milk of many different small farms. The milk is collected at a processing center, known as a fruitière, where it is manipulated and transformed under strictly controlled conditions. These fruitières form the centers of many villages in the French Jura mountains. After its fabrication at the fruitière, the huge wheels of cheese are transferred to a limited number of cellars spread across the region, where they will age for many months.
Comté Cheese Facts
All Comté is aged for at least 4 months, but it may be aged considerably longer, even up to several years.
The difference in age will create differences in flavors, and connoisseurs enjoy sampling several different ages alongside each other to appreciate these differences
Until recently, and unlike its cousins, Emmental and Gruyère, Comté could not be sold in grated form. Now it is commercialized in thin slices and cubes as well.
Comté is sampled and graded before it is sold. Wheels of cheese with a high score are encircled with a green label, those with a lesser score receive a brown label, and those that don't pass are used in the making of various processed cheeses, including the ever popular

Kiri

and

Vache Qui Rit

.
Buying Comté
The people at the Comté cheese association are obviously excellent marketers and are making every effort to see that their fine cheese is appreciated the world over. It is quite possible these days that you will find it at the cheese counter in your supermarket or at a specialty cheese shop.
You could also order Comté cheese on Amazon, including most astonishingly an entire wheel for a paltry 1000 dollars or thereabouts. Imagine 80 pounds of cheese delivered to your doorstep!
Enjoying Comte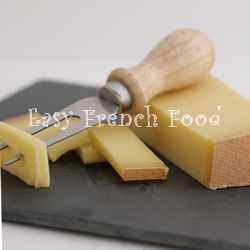 One of the fun aspects of Comté is trying to imagine where in the large wheel your piece was cut. It is all done in a regular fashion, but since the wheel is too wide to make pie shaped slices, the pieces vary in shape.
Comté makes an excellent cheese for tasting on its own. Its firm texture and mellow yet complex flavor will appeal to most people, even those who sometimes hesitate to try fancy, gourmet cheese.
Serve cubes of Comté with a Sauvignon Blanc for a tried and true taste combination. After that, because it has such a broad range of flavors itself, you can get quite creative. Try various fruits, jams, nuts, and different sorts of bread. Wine could be any number of dry whites, a light red, or even sherry.
As with all cheese, please enjoy at room temperature. If you have leftovers, wrap them carefully and store in the less cool part of your refrigerator.
Cooking With Comte
This is a wonderful melting cheese and makes an excellent fondue. You could also try it in quiches, tarts, and to top any number of au gratin dishes. Try it on top of this scalloped potatoes recipe, French onion soup, or any other dish where you'll be able to remark its outstanding flavor. Cubed comté is great in salads.
Return to French Cheese.
New!

Comments

Have your say about what you just read! Leave me a comment in the box below.